Last modified on September 21st, 2023 at 8:01 pm
Summer camp for kids is almost a rite of passage.  There is so much to be learned and experienced in a setting that is conducive to doing so.  There are so many skills to be gained, and that seem to be gained only in a summer camp setting.
Friendships forged in a camp setting can last for a lifetime.  A child can develop greater self-confidence, and both character and team building skills.
Fortunately, there is no lack in availability of summer camps.   The number of summer camps in the United States has grown steadily over the years.  There are now over 12,000 summer camps, both days and overnights.
The types of camps available reflect the changing world.  There are camps for the digital age, with game designing and robotics.  You will find camps that offer equestrian centers, 3-D printing classes, laser tag arenas, and everything in between.
Whether you are looking for a sports camp, adventure, faith-based, or a camp with a variety of activities, the options across the United States seem endless.
If you have decided to explore one of these camping options for your child, it will be an exciting adventure for them, and one that you can help prepare them for. As with most children, there might be some uncertainty and trepidation on their part.
Not knowing what to expect, and being unfamiliar with the outdoor camping experience might intimidate your child.  There is a fun and easy way to ease your child into the great outdoors, and one that you will also enjoy.
Before you send your fledgling camper off, give them a flavor of the fun they can look forward to by setting up a camping experience in your own backyard.  One way to introduce them to adventure is by sleeping in a hammock. Fun for them and easy for you.
EVEREST ACTIVE GEARDOUBLE CAMPING HAMMOCK With Mosquito Net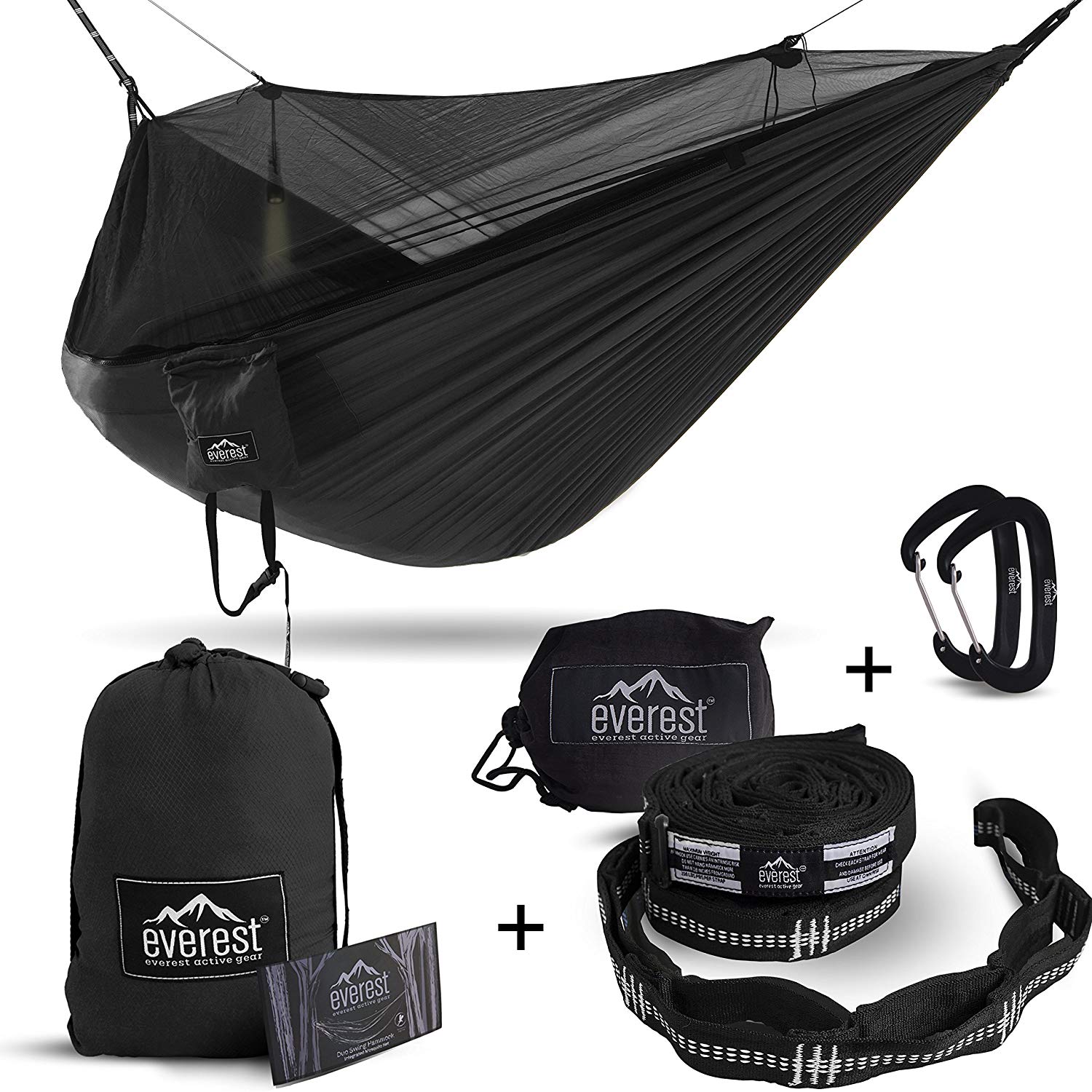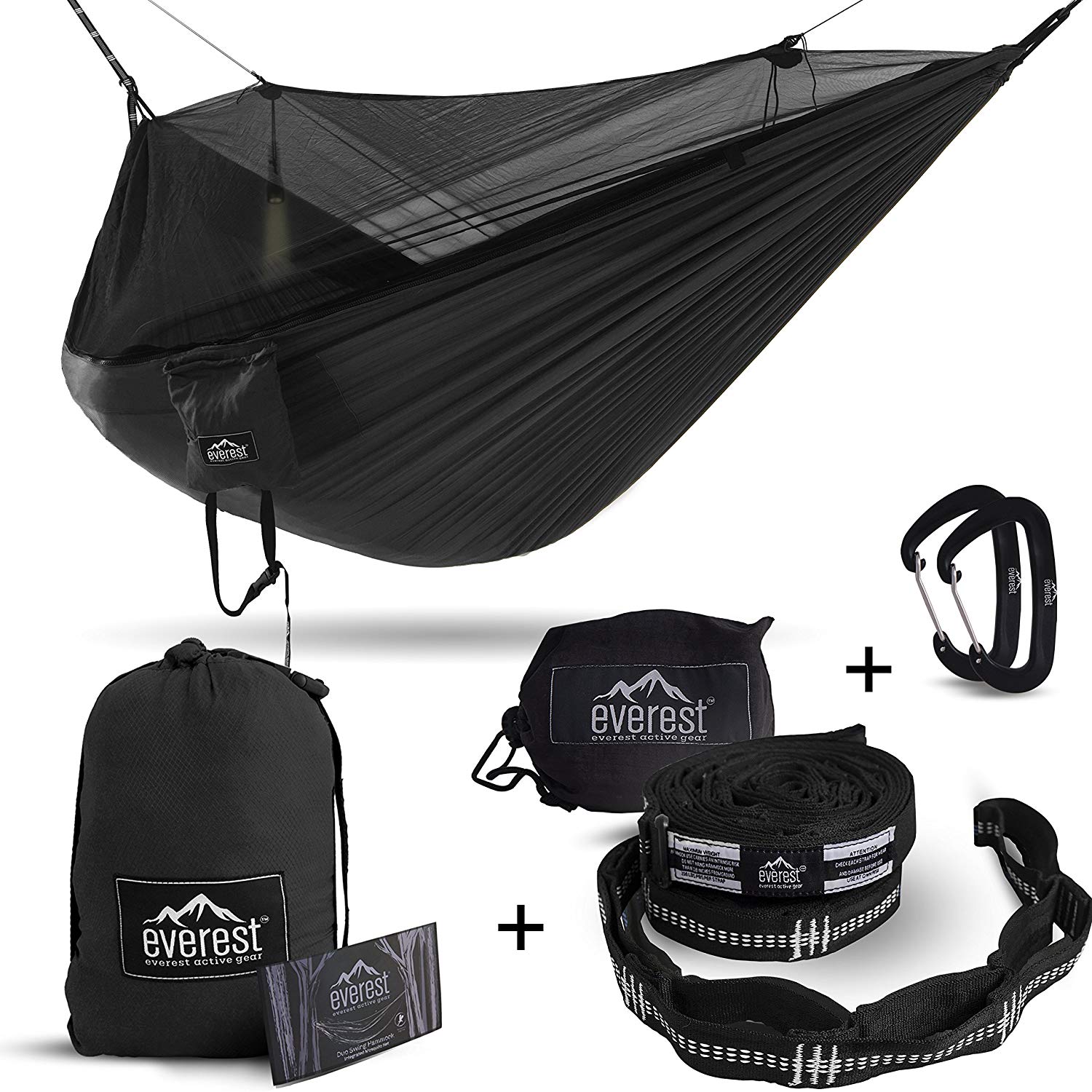 Everest makes a double hammock that is made of quality material that has triple stitched seams.This covered hammock includes a bug net.The hammocks incorporate an innovative reversible net system which enables hammock setup with little to no effort.
Try setting it up on weekends in the backyard, or on a quick trip to a nearby park.  If you do this a few times, it will help acclimate your child to the essence of camping, and make summer camp something to look forward to.
​
We have listed just a few of the many summer camps in the United States, to give you an idea of the variety of choices.  At the end of the article we have listed some decision making tips that might help with the process.
CAMP MENOMINEE
Eagle River, Wisconsin
On the 65 acres of land that Camp Menominee occupies, you will find every type of recreation that a growing boy could want.  There are baseball diamonds, football fields, tennis courts, basketball courts, along with sand volleyball courts, soccer fields, a climbing wall, zip line and a hockey rink thrown in for good measure.
All boys ages 7-16 are welcome. For more information, visit Camp Menominee here.
CAMP ROBIN HOOD
Freedom, New Hampshire
Camp Robin Hood has been in operation since 1927 in New hampshire just minutes from the White Mountain National Forest.  The camp is designed to help campers gain self-confidence and build relationships. They offer a variety of activities that include basketball, tubing, hiking, yoga, paddle boarding and lacrosse.
All campers ages 6-16 are welcome. For more information, visit Camp Robin Hood here.
CAMP KIPPEWA
Monmouth, Maine
You will find a first rate equestrian center and gymnastics facility at this private summer camp for girls. There are sailing lessons and drama classes.  You may not be able to pronounce it, but you will be able to see the beauty offered on the shores of Lake Cobbosseecontee, at Camp Kippewa.
All girls ages 7-15 are welcome. For more information, visit Camp Kippewa here
CAMP COBBOSSEE
Monmouth, Maine
A counterpart to the all girls camp, Camp Kippewa, the boys camp, Camp Cobbossee was founded in 1902,  117 years ago. (cira 2019) Camp Cobbossee is the second oldest continually running camp in the nation.
The emphasis at this competitive camp is on brotherhood through sports.  Those sports include baseball, tennis, skiing, and zip lining. Also located on Lake Cobbosseecontee, the camp has its own private island, Spirit Island, where campers explore.
All boys from grades 2 – 9 are welcome.  For more information, visit Camp Cobbossee here
INTERLOCHEN ARTS CAMP
Interlochen, Michigan
Located in northern Michigan, the camp offers a variety of multi-week long overnight programs. Interlochen draws young people from around the world to study music. Thousands of artists and arts patrons come to Interlochen to experience world-class educational and cultural opportunities.
Their programs focus on music, creative writing, dance, motion picture, visual and theater arts along with general arts.  There are also team sports, water sports, talent shows and off-campus field trips.
All campers grades 3 – 12 are welcome. For more information, visit Interlochen Arts Camp  here
RAWHIDE RANCH
Bonsall, California
At the Rawhide Ranch, kids can ride a horse every day and experience what life on a real working ranch is like.  Exactly the right place to be able to learn cattle roping and how to play cowboy laser tag. Cooking over a campfire is a given, along with playing with the baby goats.
Learning leather and wood craft, playing camp games and singing campfire songs, all while living in an old west fort, a wagon train or teepee village, will set the wild west tone for this summer camp.
All campers ages 7-15 are welcome. For more information, visit Rawhide Ranch here.
CAMP CHATEAUGAY
Lyon Mountain, New York
New York's Adirondack Mountain range is home to Camp Chateaugay.  Located on the beautiful Lake Placid, the camp has over a quarter mile of beachfront.
Activities are numerous; stone carving, leatherwork, macrame, sewing, pottery and even glass blowing. And, yes, nature photography of the Adirondacks.  Not to mention, swimming, basketball, baseball/softball, soccer, volleyball, rock climbing, sailing, roller hockey, water-skiing, tennis, and archery.
Fleet Chateaugay includes ski boats, canoes, kayaks, rowboats, sailboats, kite boards and windsurfers.  More than enough activities to keep your camper busy and happy!
All campers ages 7-15 are welcome. For more information, visit Camp Chateaugay here.
CAMP TWIN CREEKS
Marlinton, West Virginia
Nestled within the Allegheny Mountains, this sleepaway camp offers so many activities that it will be fun trying each!
Soccer, canoeing, arts and crafts, high and low ropes course, tennis, dance, mountain biking, baseball, swimming, archery, basketball, water polo, woodworking, fishing, volleyball, theatre are not the entire list of things to do at that this summer camp.
All campers ages 7-16 are welcome. For more information, visit Camp Twin Creeks here.
IN CONCLUSION
Once your child has had a wonderful and successful summer camp experience, they will want to keep that experience alive once they are back home. The Everest Camping Hammock will help to sustain those exhilarating memories.
You can continue their fun, and extend the summer by taking mini excursions that are made easy with the Everest.  On a quick trip, an extended expedition, or under the stars in the backyard, hammock camping is a must experience at any age.
The hammock is almost 10' long and 6' wide and rated to 400 pounds.  This means that the Everest will still serve well as your child grows, and be suitable for you too.
Whether you are an old pro at camping or a novice, the easy set up will convince you.  Camping on a regular basis, in the backyard, a nearby park, or even setting it up in the living room will be a fun and easy, bonding experience for the whole family.  You can create your own "summer camp" and enduring memories all year long.
[tcb-script type="text/javascript" src="//www.avantlink.com/link.php?ml=616045&p=172029&pw=219973″][/tcb-script]
TIPS FOR DECIDING ON A SUMMER CAMP FOR YOUR CHILD
You have decided to send your chip off the old block away for a summer adventure.  This is an important decision. With the variety of camps out there, it is not always easy to choose. What is the best way to go about it?  Here are a few tips to help make sure the experience is a happy one for all !
Talk to your child

.  This may seem obvious, but kids are notorious for not divulging what they are thinking about.  Try and pry out what they might be excited to experience in a setting away from home. You will probably have a rough idea of what would interest them, but also think about something new, too, that might expand their horizons.

Limit the choices.  There are numerous camps out there.  Decide which might suit your offspring, do your research and narrow it down to two or three, and then present those selections to your child and let them choose.
Pick the right type of camp.  Although you might not be the best judge, try and assess your munchkins maturity level.  Some kids might be better suited to day camps rather than resident or sleep-away camps. Does your child like to do a variety or things, or would a specialized camp be more their cup of tea? Take into consideration the location of the camp.  Is it outdoors? Indoors? Consider how the location might impact them and accommodate their needs. 
How many other campers?  Camps will vary in size.  There could be twenty, or there could be four hundred.  Does your child do better in large groups or in smaller ones? There are different experiences to be had in both situations, and it is important to take this into consideration.  
What type of services are available?  Find out about transportation, meals, insurance, any special trips or fees, equipment needed and health services.  Some camps allow their campers to have an allotted amount of money in a "bank" and use those monies at the camp store. Does your pride and joy have any special dietary needs?  Now, in the research phase, is the time to find out if they can be accomodated. 
Special needs camps.  Fortunately, there are many summer camps for kids with special needs so that they can also have the powerful positive experience that only a summer camp can give.  If a quest for this type of camp is on your list, it will be doubly important to research and ascertain that the camp has the facilities, staff and training necessary your child will need. 
Do your research.  Ahhh!  The Internet!  A blessing and a curse.  In this case, it will be a blessing.  You can access information about summer camps far and wide. The American Camp Association has lists of camps, as well as Summer Camps and KidsCamps.   The camp itself should  have a website with pictures, lists of programs and…importantly, reviews. 
Tuition.  What is the tuition for the camp, and what is included?  Choose one that is in your budget. The average cost of a sleepaway camp is over $700 a week.  There are others that can run into the thousands for a several weeks stay. Don't break the bank or cram in the overtime, choose a camp that will be a delight for your child but won't cause stress in your wallet. 
Talk to other parents.  This is a great way to gain information about various camps and the experience others have had with them. You can also gain tips about what is handy to pack for your child and other helpful ideas. 
Visit. Check out the camp's website for a virtual tour. Even better, visit the camp if at all possible.  If you one of those smart people who plan ahead, visit the camp in the year before you are considering sending your child.  You will be able to see the camp in full swing and get an idea about the camps day to day routine. Make sure that the camp is accredited. The American Camp Association visits camps and examines and reviews programs, facilities, staff, and safety policies. If the  American Camp Association accredits the camp, then you know it's more than likely a quality program.  Be sure to ask the camp director if the camp has the certification.