Last modified on March 12th, 2020 at 12:27 am
6 Historic Outdoor Wild West Locations in the U.S.A
The days of duels between hard as nails outlaws and redoubtable sheriffs may have passed into legend; but the Wild West continues to stir our collective imagination. Westerns, as a genre of films, has given us many classics. There are some great novels by authors who have woven a tapestry of life in Texas, Arizona, and Wyoming towns. Western-themed bric-a-bracs sell online and across all those tourist destinations that were once frequented by cattle rustlers, honest cowboys, sneaky deputy sheriffs, and the assorted cast of any Western romance.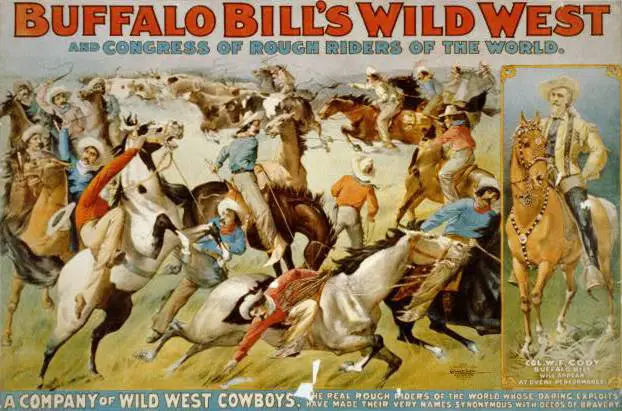 Books and films, though, cannot quite match the feel of actually breathing the air of a Wild West location. How about a quick vacation to one of these fabled places? Saddle up, and we'll take you on an introductory ride across the fabled Wild West locations in America.
Tombstone, Arizona – The quintessential Wild West town, Tombstone has been a National Historic Landmark District since 1961. It's considered that important and representative of the days gone by. If there's one place in America which still preserves that air of the West as it was in the 1870s, then it's this town, nicknamed "The Town Too Tough to Die". A recreation of the fight at O.K Corral is a popular attraction for visitors. Th Old Tombstone Wild West Theme Park is a recommended stop for those who enjoy watching gunfights. A guided tour of the Birdcage Theater is entertaining and enlightening.
Bandera, Texas – This Texan town styles itself the "Cowboy Capital of the World", and it goes the whole hog to justify its self-proclaimed position as one. There are dude ranches here where cool dudes, such as yourself, can measure their testosterone levels by undertaking all sorts of activities. In great part, it's about doing what tough cowboys (and cowgirls!) used to do back in the day. And then there are real working ranches that you can visit to see how being a cowboy is a cultural thing in Bandera. Pay a visit to Frontier Times Museum to see artefacts from the time when Bandera was a frontier town, like original posters from Buffalo Bill's wildly popular shows. Join historical tours conducted by witty and experienced guides. These walking or vehicular tours are a great way to learn about the history of the town and see the architecture from the time, such as the old jail and courthouse.
Cody, Wyoming – This town, named after Buffalo Bill Cody, is the place where cowboy culture is alive and kicking. The residents have not let go of the spirit that frontiersman Buffalo Bill imbued it with. It's the rodeo capital of the world. Past and present have segued smoothly in Cody, and here you can get as close to the Wild West spirit as is possible. If you want to have some rugged fun, then check into one of the dude ranches and have some fun lassoing steers, riding horses, hiking the countryside, shoeing a horse, and doing all those cool dude things that you've wanted to. Or, if you seek some comfort, then check into Irma Hotel, Buffalo Bill built it and named it after his daughter. There are restored historic buildings at the Old Trail Town near Yellowstone Highway.
Deadwood, South Dakota – Deadwood came into being in 1876 when prospectors struck gold in a creek here. Like many other Wild West towns of its time, Deadwood grew at a pace that the law could not keep up with. Saloons and brothels attracted customers in equal numbers. Issues were settled on the quick draws of six shooters. One of Wild West's most cherished legendary character, Wild Bill Hickock met his end while playing poker at the Nuttal and Mann's Saloon in Deadwood. You can view the reenactment of Hickock's killing every summer at the Masonic Temple in the city. Get on a vintage steam train to take a ride that offers a grand view of the Black Hills of South Dakota. Learn about the history and characters of early Deadwood, when it was a lively and raucous town by heading over to the Deadwood Comfort Inn which hosts the very popular 1876 Mystery Dinner Theater. The Black Hills Mining Museum, the Adams Museum, the Broken Boot Gold Mine…these are just some of the classic historic attractions in Deadwood.
Dodge City, Kansas – Dodge City has its name enshrined as one of the foremost frontier towns where the good, the bad, and the ugly came to make their fortunes. If you love legends and lore related to the Wild West, then there are many associated with this town. After all, a town that has hosted legends of the Old West such as Wyatt Earp and Doc Holliday is bound to have stories that it will share with a willing listener. Visit it. And when there, check out the Gunfighter's Wax Museum, a local version of Madame Tussaud's. The Boot Hill Museum has preserved the relics of old Dodge City. Head over to Fort Dodge, from where the city grew.
Denver, Colorado – Denver of today may be a far cry from its gunslinging past, but make no mistake, this beautiful city was as much a Wild West town as the others named above. The American Museum of Western Art is dedicated to art inspired by the Wild West and here you can gaze upon the frontier-inspired works of George Catlin, Frederic Remington and other artists. Buffalo Bill lies buried 12 miles from Denver, on Lookout Mountain. Visit his grave and the museum nearby to see weapons used by settlers and Indians, including the bow and arrows used by Chief Sitting Bull. Pick up a memento or two from the curio shop, munch on a burger and try to think about what Denver was like back then, with Sitting Bull, in is inspiring eagle feather head-dress holding council. The Black American West Museum educates visitors about the role blacks played in sustaining towns such as Denver. They worked as blacksmiths, ranchers, cowboys, and probably lead as interesting a life as their white counterparts.
The Wild West was huge, encompassing so many of today's states. Cities like San Francisco, Sheridan, and Cripple Creek are just some of the others that had their moments under the Wild West sun and till date continue to cherish and maintain that legacy.