Last modified on March 16th, 2020 at 9:39 am
The Ultimate Camping Food List for the Whole Family
Families all over the world are making camping and the great outdoors a fast-growing and popular activity. In fact, approximately 13 million families in the United States make camping a regular part of their lifestyle, and it is estimated that this number will grow by an expected 500,000 every year, according to statistics released by the North American Camping Report (2017).
With camping becoming part of the American landscape, it's no wonder that the search for the ultimate camping food list is also a national pastime! Here's our list for the best ingredients to take with you on your next camping trip.
The whole family is sure to love this list. Also, you want to make sure that you get your camping gear in order, whether it be the more technical gear that can be found on this website or the noble tent.
Now let's get started!
What Are the Best Foods to Take Camping?
It's best to start with a list that will see you and your family through a 3-day camping trip, and then you can expand on some of the ingredients depending on the number of days you'll be away.
The first thing to pack when you are preparing for a camping trip, are the foods that your family can't live without, make sure to familiarize yourself with these tips as well. A camping trip is no time to start trying to introduce new foods to a fussy eater. So, if a member of your family will only eat a certain breakfast cereal in the morning, remember to include enough of it to see you through your weekend break.
After you have gotten that priority out of the way, you can begin to concentrate on the essential staples every camping trip should have. And for the purposes of this list, we are going to use these parameters:
Traveling to the camping site in a car or SUV.
The campsite is in protected area with no wildlife encroachment.
You will be living out of a tent/s on the campsite, and maybe using your car for storage.
The campsite permits fires and grilling.
The campsite has a fresh, clean water supply.
There will be no stopping at motels on the way there – if you are making a few overnight stops on the way to the camping site, do all your food shopping at the last town before the site location.
There's no use packing a loaf of bread for your family's camping trip, only for it to be stale by the time you arrive at the campsite!
Equipment to Consider Buying for a Family Camping Trip
If you plan on making family camping trips a regular part of your lifestyle, it might be a good idea to consider investing in a few pieces of equipment that will make your time there so much easier. These aren't must-have items, but they sure do make food preparation simple and stress-free.
Portable Fridge/Freezer: If you have the space in your car for a portable fridge/freezer, they are a big help. Refrigerator/freezers are available with different capacities and can be used on many other occasions besides camping. You can buy ones powered by solar energy or rechargeable batteries. It makes all the difference if you like to keep leftovers or put ice in your beverages.
Coffee Makers for Camping: Can't face the new day before drinking a hot cup of freshly brewed coffee? You'll be pleased to know there are many kinds of coffee makers for camping on the market. They come battery-powered, propane-fueled, and even the good old fashioned ones you plonk on the fire and wait for it to percolate.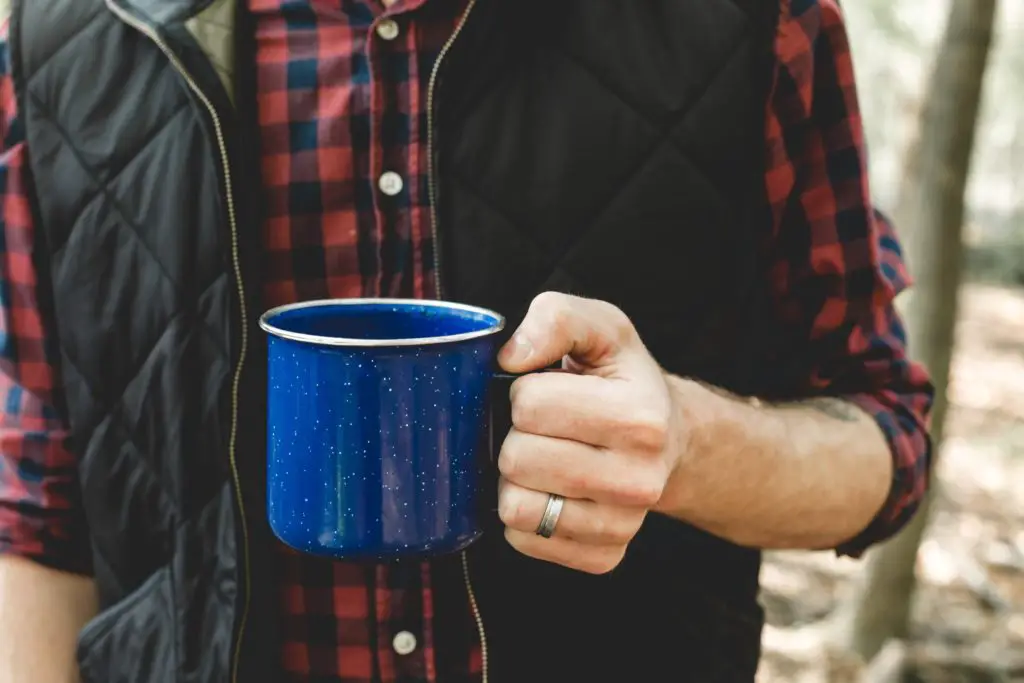 Check Points for Camping Food
When you have been on a camping trip with your family before, you will have already received the memo about plastic utensils and plates – there are some really cool, collapsible ones you can buy that have been designed with camping in mind. The same goes for camping foods. They should be robust enough to not break during transport and packing, and hardy enough not to wilt in the sun if your car is travelling north/south.
On top of that, it must also be wholesome, nourishing food that can be prepared into nutritious and filling campfire fare. Don't worry of that sounds complicated, because once you have this whole "camping food list" down, it will become a lot easier.
Best Breakfast Foods for Camping
Granola and cereal are ideal to pack for a camping trip. They are lightweight and don't mind if you squash the boxes into a tight corner. You can add oatmeal porridge and dried fruit to the list as well. They are the perfect thing to sprinkle over a breakfast bowl to add flavor and nutrition.
If you are feeling adventurous and don't have a lot of activities planned for the day, try putting a bottle of pancake mix onto the list. Make sure that it's one of the brands that don't need any other ingredient except water and a good shake, and don't forget to pack the frying pan, oil, and syrup too.
Best Lunch Ingredients and Foods for Camping
As a family, you will know whether you like to make lunch or dinner your main meal of the day. Many families have a tradition of weekend lunches being one of those leisurely cookouts or lavish meal preps that start mid-morning and only get served up at 2 or 3 in the afternoon.
There's no need to change that routine just because you're camping. Just change the list ingredients for dinner and lunch around.
Lunch: sandwiches made with bread, peanut butter, and jelly; dried crackers and canned soup/packet soup; canned tuna and mayonnaise sandwiches; fruit in season; noodles; pita breads/tortilla chips and salsa dip.
Dinner Ingredients and Cooking Ideas for Camping
With a packet of penne, jar of pesto, and sachet of parmesan, you can have a hearty campfire meal ready in no time at all. Slicing up some potatoes, cured sausage, and onions into a frying pan makes a quick and hearty hash that's a welcome dish at every meal. But if you have decided to invest in a portable fridge/freezer, your options will be a lot more plentiful.
Foodstuffs to Take in Your Fridge/Freezer
Eggs and bacon: So much yummier than powdered eggs and bacon bits.
Hot dogs: Pack the buns carefully so they don't disintegrate. Cook the hot dogs over the fire on a stick.
Salad ingredients: such as cucumber, tomatoes, green peppers, and lettuce. It saves on space to put them all washed and ready to use in an air tight plastic container.
Dairy products: yogurts, cheese, milk, butter, spreads, and ice cream.
Tips for Packing the Food into Your Portable Fridge/Freezer
If you stack the frozen foods into your portable appliance in the order in which they are to be eaten, it will reduce the amount of time the door will be open, and the number of times you have to open it. This saves of the device's power consumption.
The safest way to keep meat in a camping fridge/freezer is to remove the meat you are going to use the next day from the freezer section into the fridge section. This is a good method to keep the meat fresh and the fridge cool. Buy a camping fridge that has baskets to prevent accidental freezer burn, allows the cold air to circulate, and stops the ventilation slots from blocking. And always keep your portable appliance locked.
Ask your butcher to vacuum pack all your meat; it lasts longer and won't even need to go into the freezer for a weekend camping trip.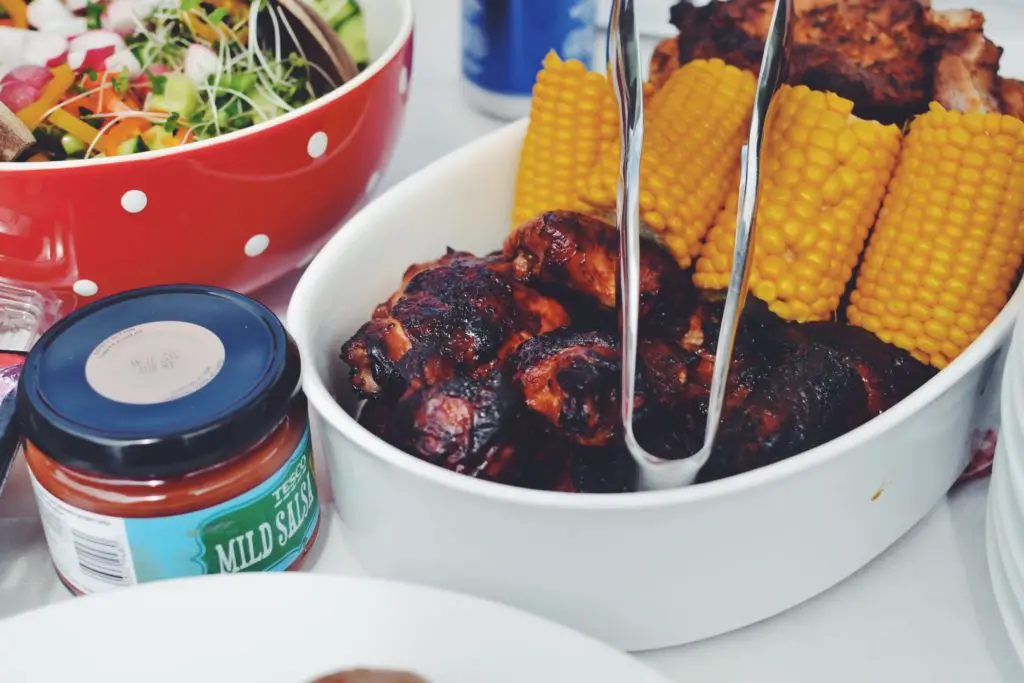 Little Extras: Drinks
Concentrated fruit squash drink in liquid or powder form
Boxes of fruit juice
Coffee
Tea
Hot chocolate (a fall and winter staple)
Favorite family beverages
Don't Forget the Condiments and Seasoning
Salt; pepper; ketchup; mustard; mixed herbs and spices mix for grilling and barbecuing; garlic powder; hotdog relish.
Most people's idea of camping is cooking something delicious over the fire. So, don't forget the Graham crackers and marshmallows for that special family activity: toasting s'mores.