Last modified on August 16th, 2021 at 1:45 am
6 Summer Camp Cooking Recipes to Enjoy Cooking in the Outdoors
Are you about to embark on your next adventure into the wilderness? Looking for some delicious meals to cook while enjoying the great outdoors? For many, cooking outdoors can present a challenge, especially if you're unprepared. But it doesn't have to!
Here are some of our favorite camp cooking recipes that you can cook over the open fire or on a portable camp stove. From light and refreshing to savory and filling, look no further for your outdoor cooking ideas.  
Recipes for Campfire Cooking
First and foremost, when cooking outdoors, it is important to know how to build the perfect campfire. Check out the ultimate crackling guide that will show you how to do this in 5 easy steps. Once you've got this down, even Smokey the bear won't be able to stand the heat in your outdoor kitchen. 
Now that you know how to build an impressive campfire let's talk about food. 
Campfire McMuffins
Seeing as you start your morning with breakfast, we figured we should start there as well. Combining the taste of this savory and cheesy delight with the smoky taste of your campfire is sure to have you rising and shining as bright as the morning sun. This simple, 4-step recipe is the perfect way to begin your day.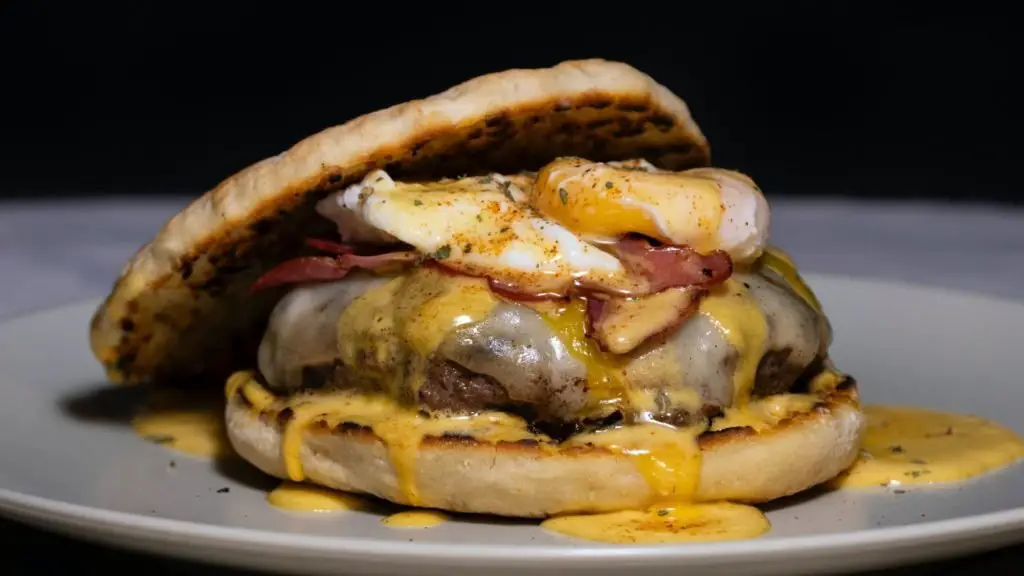 What you will need:
Campfire cooking grate
Cast iron skillet 
Ingredients (serves 6):
6 eggs 
Pre-sliced English muffins (6 pack)
6 frozen sausage patties 
Butter
Sliced cheddar cheese (optional)
Instructions:
Place your sausage patties on the cooking grate over the campfire, flipping them a couple of times until they are heated completely through.
Add butter to both sides of your English muffins and place them on the cooking grate alongside your sausage patties. Keep a close eye on these to make sure they are toasted to your preference. 
Add butter to your cast-iron skillet and heat it over the campfire. Crack an egg and fry it to your liking. If you want to add cheese, place a slice over your egg in the cast iron skillet until melted. 
Assemble your sandwich and enjoy!
Garlic Butter Chicken and Potato Foil Packets
These versatile and traditional outdoor feasts will not only leave your taste buds wanting more, but they are a healthy alternative for summer camp cooking as well. We want to share one of our favorite recipes with you.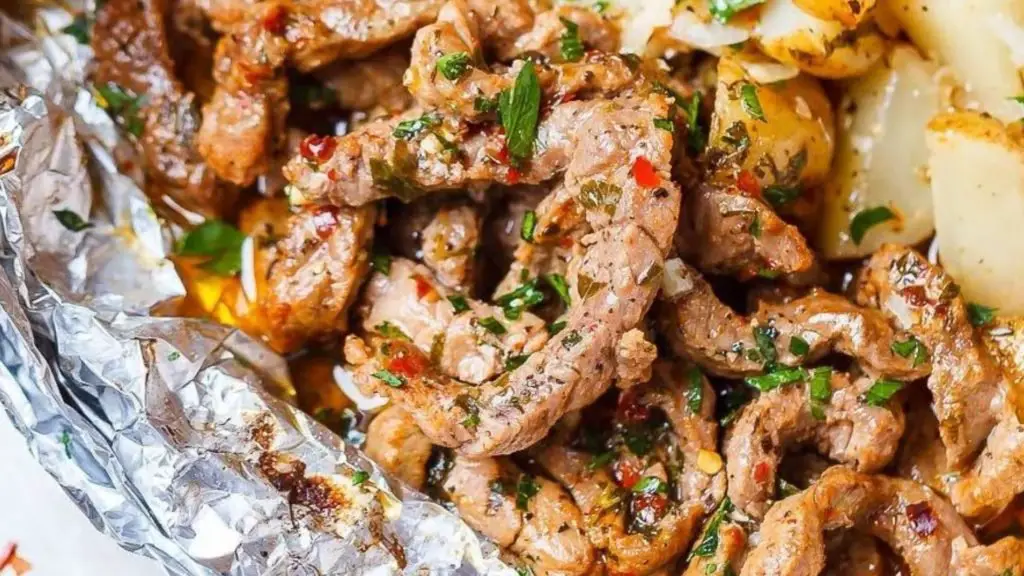 What you will need:
Tinfoil 
Medium-sized cooking bowl
Sharp knife
Campfire cooking grate 
Ingredients (serves 4): 
1 stick of unsalted butter, cut into tablespoons
4 boneless, skinless chicken breasts (6-ounces)
3-5 cloves of minced garlic, or 1 small jar of minced garlic  
1 pound of baby potatoes, halved 
Pepper, salt, Italian seasoning
2 small onions, sliced (optional) 
Instructions: 
Combine potatoes, garlic, butter, salt, pepper, Italian seasoning, and sliced onions in a bowl and toss.
Season chicken breasts with salt and pepper, and place in 4 separate sheets of foil.
Divide vegetable mixture evenly between chicken foil packets.
Fold tin foil over and crumple edges to make sure the packets are completely sealed. 
Place the packets on the campfire cooking grate until the chicken is cooked through and vegetables are tender. Remove from the fire and let them cool for at least 10 minutes before serving.  
Campfire Fruit Kabobs
This light, refreshing, and sweet grilled treat is a delicious and nutritious snack on a beautiful summer day. Throw these easy skewers on the fire and have a crowd favorite in no time.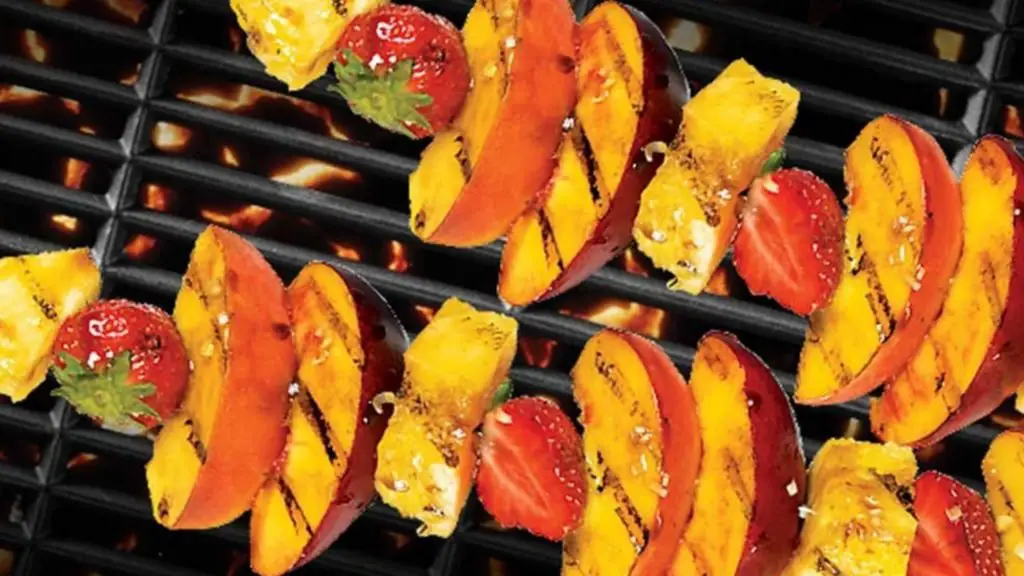 What you need:
Campfire cooking grate
Sharp Knife
Cutting board
Skewers
Ingredients (serves 8): 
6 peaches, sliced
1 pint of strawberries 
1 pineapple, cubed
Olive oil
Salt
Honey
Instructions: 
Add the fruit to the skewers. Drizzle with olive oil and sprinkle with salt
Place the skewers on the campfire, occasionally turning until the fruit is tender and somewhat charred.
Drizzle with honey, and serve.  
Camping Stove Recipes
A gas camping stove is also a great way to cook outdoors and make sure you are fueling your body for the adventures ahead. If you are not familiar with using a camping stove, this camping checklist will discuss that and much more to make sure you are prepared for all things camping. 
Now that you have your camping stove set up let's get back to cooking. 
Skillet Camp Pizza
Honestly, who doesn't love pizza? This savory and mouth-watering favorite is perfect for all ages, from picky eaters to food connoisseurs alike.  The best thing about a camp skillet pizza is keeping it simple or adding all the toppings your heart desires. For the sake of this recipe, we will keep it simple.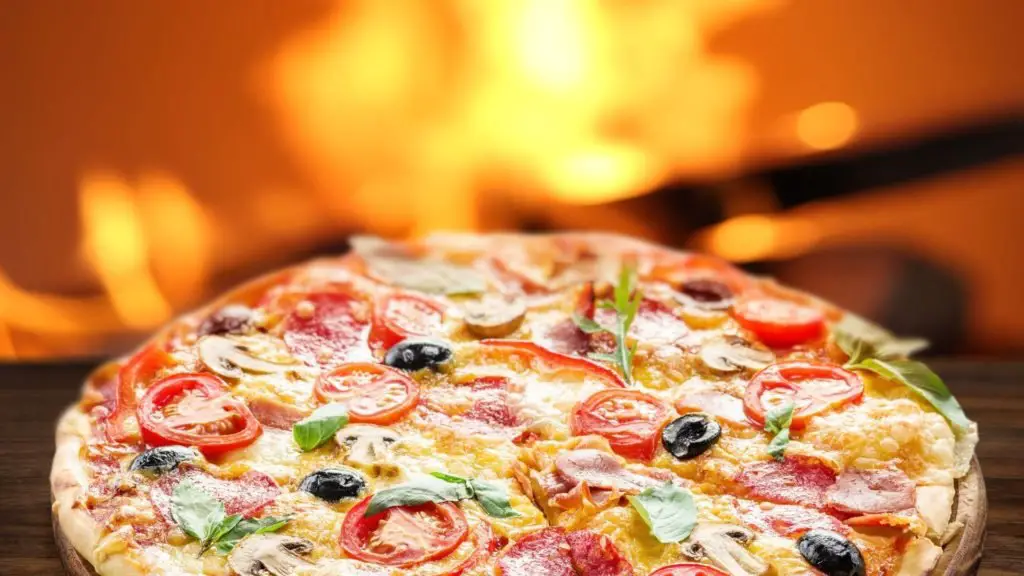 What you will need: 
Cast-iron skillet 
Spoon or brush 
Sharp Knife
Cutting board
Ingredients (1 Pizza):
1 tube of refrigerated pizza dough 
1 jar of Pizza sauce
Oil or butter
2 cups of mozzarella cheese 
Your choice of toppings. We suggest pre-cooked pepperoni, chopped vegetables, or dried spices such as oregano or basil. 
Instructions: 
Add oil or butter to your cast-iron skillet so the dough does not stick. 
Spread the dough evenly onto your skillet.
Place the skillet over your camping stove and cook the dough until golden-brown. Flip the crust in the pan.
Brush your dough with pizza sauce, cover it in cheese, and add your preferred toppings.
Cook until your desired crispness. Make sure your toppings are warm and cooked through. 
Apple Crisp Skillet  
We understand it's difficult to stray away from the beloved S'more, but we promise this recipe will satisfy your summer sweet tooth. This yummy dessert will leave you feeling warm and cozy when the sun has set and the evening chill kicks in.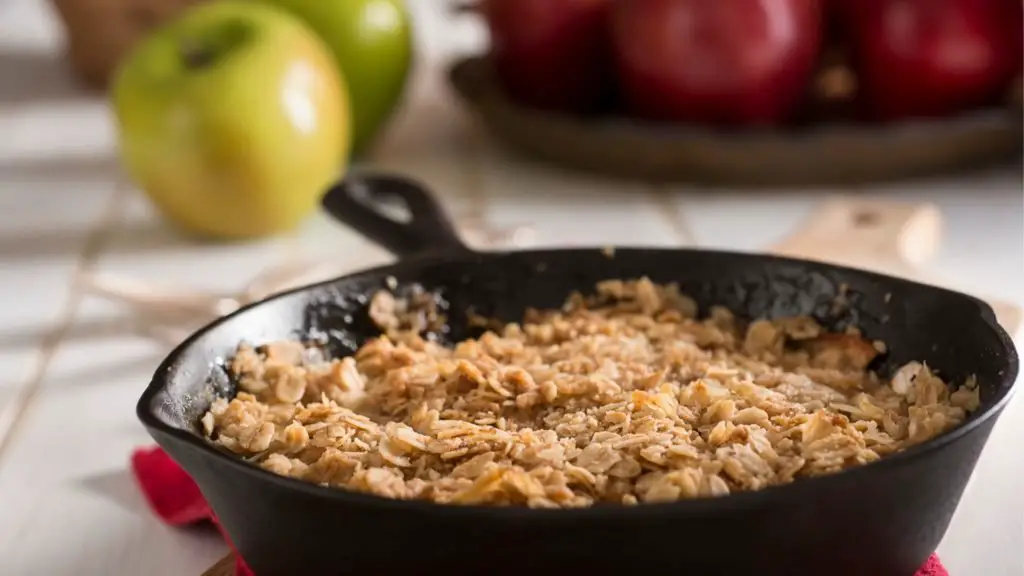 What you will need: 
Cast iron skillet
Sharp knife 
Cutting board  
Stirring spoon
Ingredients (serves 3): 
3-4 apples, thinly sliced 
2-3 tablespoons of butter 
Ground cinnamon 
Ground cloves 
Ground nutmeg 
½ cup of brown sugar 
1 cup of granola
Instructions:
Saute the sliced apples with a small amount of butter for 5-7 minutes or until they begin to soften.
Add cinnamon, cloves, and brown sugar and stir. Cook for another 7-10 minutes until the apples are tender. 
Remove from the fire, top with granola, and let cool for 5-10 minutes before indulging. 
Mexican Street Corn Skillet 
Eating your vegetables doesn't always have to be boring! Spice up your summer camp cooking recipes with this tangy and creamy Mexican-style street corn.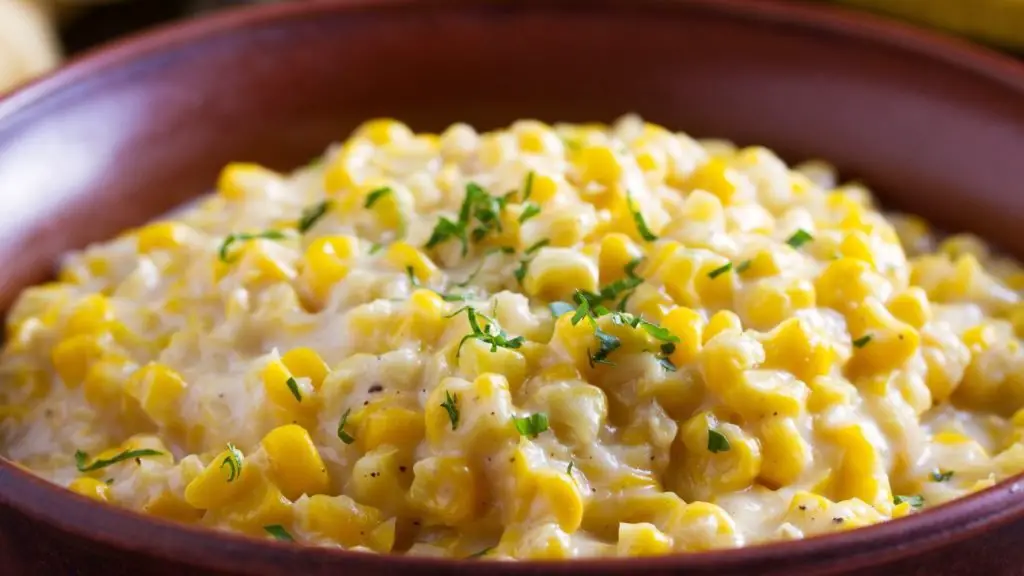 What you will need: 
Cast iron skillet
Medium-sized cooking bowl 
Stirring spoon
Ingredients (serves 8):
8 medium ears sweet corn, remove husks and cut kernels off (you can also use canned corn)
1/2 cup Mexican crema or sour cream
1/2 cup mayonnaise
1/2 cup chopped cilantro
1 clove garlic, minced
1/4 teaspoon ground chipotle pepper, to taste
2 teaspoons finely grated lime zest 
2 tablespoons lime juice
1/2 cup cotija cheese, crumbled
Instructions: 
Mix cream, mayonnaise, cilantro, garlic, chipotle pepper, lime zest, and lime juice in a cooking bowl.
Put corn kernels in the skillet and place them on the stove. Cook for 5-8 minutes, occasionally stirring until kernels start to brown.
Remove the skillet and stir in the cream mixture with a spoon. Add crumbled cotija cheese and serve with a lime wedge.
Conclusion
Okay, now that you are the Gordon Ramsey of the great outdoors, we hope these camp cooking recipes have you excited and ready for your next adventure. 
Cooking in the wilderness doesn't need to be tedious or difficult. You just need to come prepared. Be sure also to pack easy snacks such as trail mix, fresh fruit, and granola bars. And don't forget the beer! Happy camping!