Last modified on October 12th, 2020 at 11:58 pm
10 Things Every Hunter Should Carry
You don't need to be an experienced hunter to realize how vulnerable a human being like you can be when out in the bush. Let's simply say that when exposed to the elements and an environment that you are most likely unfamiliar with, your chances of getting out alive and well aren't exactly great.
That's why it is critical to bring only the essentials when hunting. You certainly don't want to carry things that would add extra weight and leave you fatigued at the end of the day.
But what are those essentials? We have listed down the 10 things every hunter should have in their backpacks:
1.   Water
Without a doubt, water is the most important thing you need to survive when you go outdoors. This would likely be the answer any experienced hunter would tell you if you asked what you need to bring when hunting. You can put your water supply in a bladder to reduce the space it would take up in your backpack.
2.   First aid kit
A small first aid kit is something you'd want in your pack. It can come in handy when you cut yourself with a knife or get entangled with a cactus. We suggest keeping a couple of bandaids, hand sanitizer, anti-itch cream, and antibacterial cream.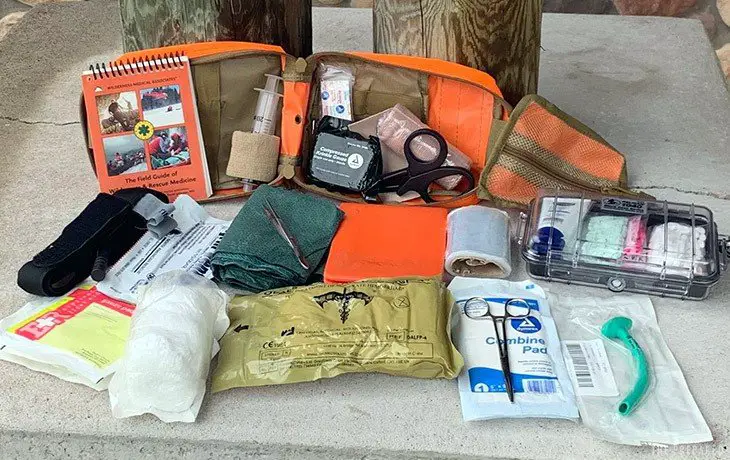 3.   Rain gear
Imagine spending hours under heavy rain waiting for your prey? It will not only wear you down but also make you uncomfortable. That's why you should always have a raingear when hunting.
It will prevent you from suffering from chills or getting soggy clothes due to unfavorable weather conditions.
You can choose from rain suits, jackets, and ponchos. The latter is the least effective in terms of protection from wet conditions but can be the most affordable. For an enhanced level of coverage, you should consider getting either jackets or rain suits.
4.   Headlamp
Without a headlamp, you'd certainly struggle to find your way back to camp at night after a day of hunting. It can also help you when dressing an animal in the dark. In some cases, a headlamp can save you during emergency situations with settings like SOS and strobe. With so many uses, a headlamp is surely something you should have in your pack.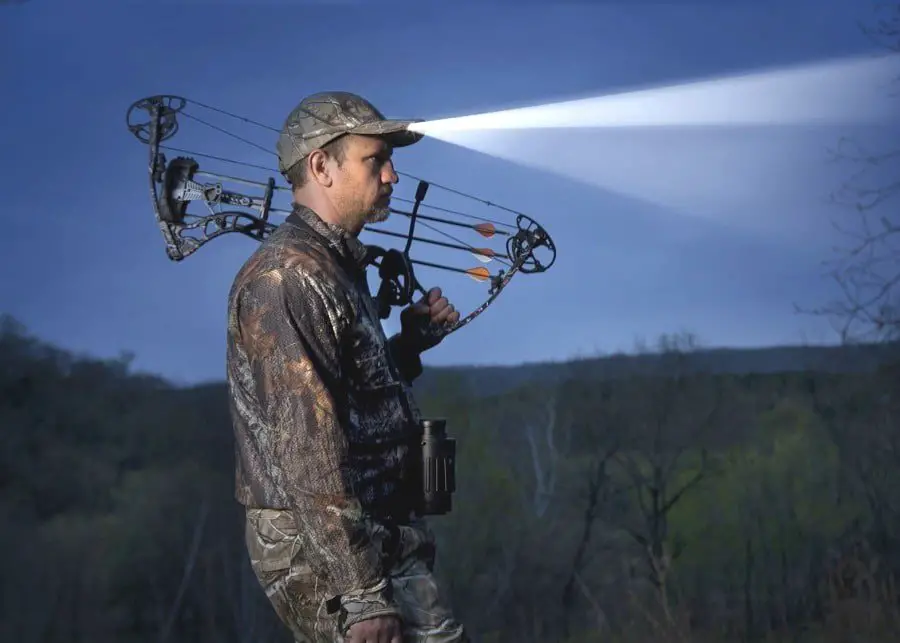 5.   Food or snacks
You will get hungry quickly when you are hiking, so it is a must that you carry food or snacks in your pack.
It is recommended that you carry calorie-dense food to keep your backpack lightweight enough to carry. Choose food items containing 100 calories per ounce of weight. Moreover, you would want to pass up on foods containing empty calories such as food items high in sugar and starch. Sure, sugar may give you an energy rush but that would eventually fizzle out. Instead, bring foods that can fuel your body for the hike.
Some of the best foods you can take are trail mix, summer sausage, and jerky.
6.   Knife
For many hunters, a knife's primary purpose is for skinning the animal after a kill. But it can also be versatile enough to provide other purposes like cauterizing wounds. If you need to cauterize a wound, you can put the blade of a knife in a fire and mitigate the risk of infection. You can also use it in starting fires with a rock and tinder as well as tapping for saps.
There are several knives that you can choose from. You can opt for a fixed blade hunting knife which is easy to clean and strong. If you want something more compact, then go for a folding hunting knife. You may also get an automatic knife.
7.   Rubber gloves
Speaking of skinning an animal, it is always safe to wear gloves while doing so. After all, you never know the parasites or bacteria that the animal may have.
Brucellosis is one of the diseases that you may be at risk of when you skin an animal without rubber gloves. You can get it if you get in contact with an infected animal contaminated with the bacteria.
Fortunately for hunters like you, rubber gloves and archery gloves won't really add up to the weight of your pack. Bring a couple or more pairs of rubber gloves so you will have an extra just in case one goes missing.
8.   Survival or hunting blanket
Regardless of the type of hunting you are into, besides hunting weapons like 22lr rifles or crossbows, a survival or hunting blanket is also essential. Like knives, survival blankets are versatile and can serve multiple purposes. Obviously, it can keep you warm at night. It can also be used in warming up your food or getting the attention of others for help by serving as a signaling device. It can also work as a water warmer, rain catcher, a drop cloth, or a food cover to keep your food warm.
Moreover, a survival blanket weighs almost nothing and won't take up space in your pack.
9.   Rangefinder
Small and lightweight, a rangefinder is a must for hunters like you. The most important use of this tool is for determining the distance between you and your prey. You would not want to miss your target, hence you should have a rangefinder in your pack.
There are other reasons why you should carry a rangefinder. One is that it can prevent you from shooting something else. Plus, it is convenient to carry around. It's affordable, too! Talking about affordability you can also carry best binoculars under 100 along with it just to be more equipped with.
10. Flashlight
Last but not least, you'd want to have a flashlight in your pack. Obviously, a flashlight would prove handy at night, giving you the illumination to read maps or navigate your way out of the woods. It can also provide the light you need without disturbing the habitat.
But a flashlight can also be used during the day when finding the right trail can be a challenge because of the shadows cast.
A flashlight is also lightweight and easy to carry around. Moreover, you won't have to spend a ton of money on a good quality flashlight.
Those are the 10 things every hunter like you should have in a backpack. Remember to prepare these things in time for your next hunting trip.