Last modified on April 6th, 2020 at 10:36 am
Best Canadian Hiking Trails
From coast to Canadian coast, we have compiled a comprehensive list of the absolute best hiking spots in Canada. Canada is full of beautiful wilderness, and these are just a few of the best Canadian hiking trails that are guaranteed to baffle you with beauty.
Banff National Park, Alberta
With over 1,600 km of winding hiking trails that vary from beginner to advanced, the views and vista are breathtaking at nearly every turn within Canada's oldest national park.
Waterton Lakes National Park, Alberta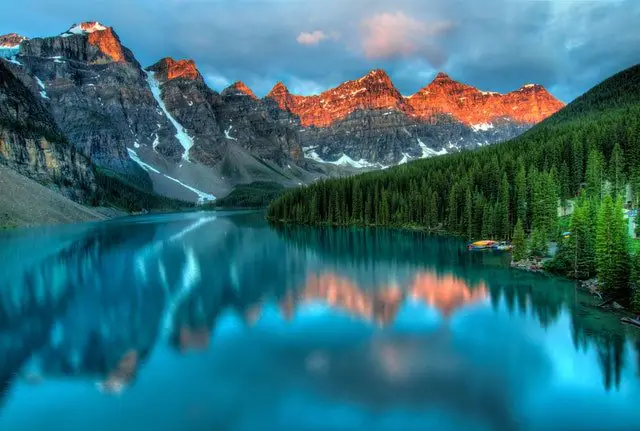 This park sports a similar terrain to Banff's but instead of several large villages, it has one waterfront town instead. There are a variety of shorter trails here that will take you under an hour, as well as longer, more intense trails. The Tamarack trail is a gorgeous choice if you're looking for a challenge. It is 32-km long with 8,500 feet elevation and can take 2-3 days to complete.
Fundy National Park, New Brunswick
The Bay of Fundy– one of the seven wonders of North America– is an absolute must see. Its claim to fame is some of the highest tides in the world. This park also includes 25 different trails with a variety of terrain and water systems.
Gros Morne National Park, Newfoundland
If you are a fan of mostly flat, rolling hills, this is a great place for a one-of-a-kind hike. This stunning easternmost park is a world heritage site. It is generally an easier, flat area to hike, with the exception of one steep hill that is quite steep.
>> You May Also Like: Winter Hiking Tips
Bruce Peninsula National Park, Ontario
Canada's oldest and longest footpath spans 750km, running from Tobermory to Niagara Falls. This well-maintained and not overly challenging trail offers a variety of activities from day hikes to trail running.
Cape Breton Highlands National Park, Nova Scotia
This diverse area is great for a variety of hikers. Trails range from beginner, man-made boardwalks to much more challenging trails with some moderate elevation. The longest trail in this area is just over 12km, and most trails are relatively flat.
Jasper National Park, Alberta
Located north of Banff and west of Edmonton, Jasper offers the beauty of Banff without the crowds. It is home to the skyline trail, one of the best backpacking trails in the Rockies.
Albion Falls, Ontario
This location offers several self-guided trails, but it is the spectacular waterfall that makes the hike worthwhile.
Pointe-Taillon National Park, Quebec
This park has long trails with minimal elevation gain. This area is an excellent option for novice hikers who are challenged by elevation gain, but not distance.
Algonquin Provincial Park, Ontario
This is hands down one of the most popular hiking spots in the area. It has several trails that are great for beginners, and trails that offer a challenge for experienced hikers.
Be Prepared For Wilderness
If you choose to do any of these hikes, make sure you prepare by checking out more details hiking trail guides. Also make sure to always check the weather in your area and for trail closures.
Depending on the time of year you go, make sure you have enough warm weather gear. Canadian wilderness can be harsh if you aren't prepared.
I have been a nature enthusiast since I was a small girl. My background is in online marketing and website development. It only makes sense to merge my love for nature with my skills in online marketing to help spread awareness, and appreciation for Our Beautiful Planet.