Last modified on March 12th, 2022 at 10:47 am
Top Garmin Cycling Watches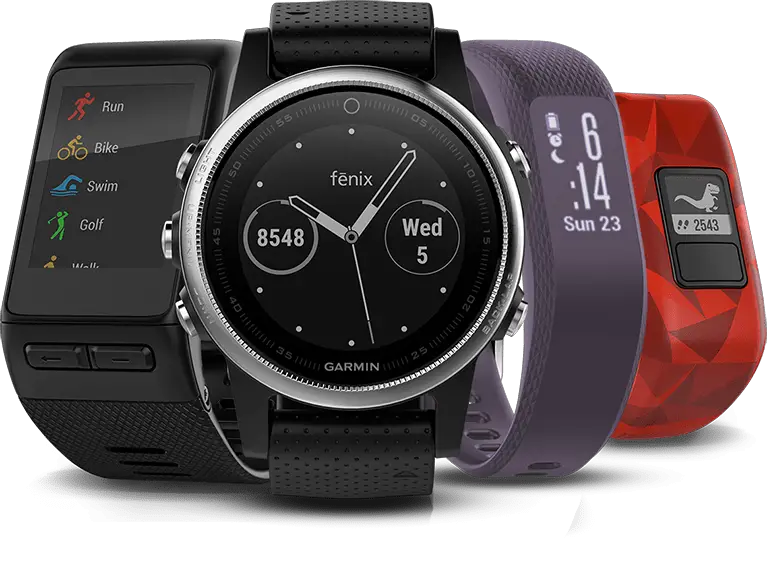 Why Choose Garmin?
Whatever your activity level, Garmin likely has a watch that is suited to your needs. Their line of activity trackers and cycling watches will help you record your activity level and maintain your running times and levels on an ongoing basis. Garmin offers watches for beginners as well as watches for seasoned athletes.
Once you decide what your specific needs are, you'll be able to narrow down the choices of watches to make it easy to select just the right one to fit your style and needs. Once you decide on the garmin cycling watch that is best for you, you'll be able to track various activities.
When you can see how you're performing, you'll find that you will be more motivated to push yourself further than ever before. Before long you will be breaking your own records.
By tracking and recording your results, you will be able to compete with friends and make exercising a lot more fun. The following are the best sport watches currently available from Garmin.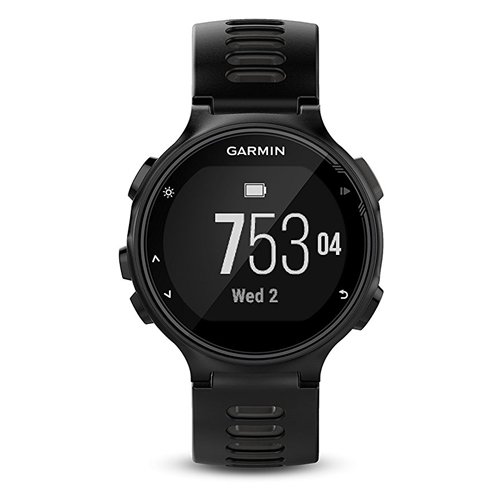 Garmin combined the Garmin FR235 optical HR running watch with the Garmin FR920XT triathlon watch and came up with Garmin FR 735XT. It is a smaller watch, more along the lines of Garmin's basic running watch. It is a very lightweight watch as well. It is ideal for athletes looking for a lighter triathlon watch.
You May Also Like: Garmin Forerunner 235 vs. 230
One key thing to note about this watch is that it does not have a barometer altimeter. Instead, It uses a GPS based altimeter. The lack of barometer altimeter does affect its accuracy, but not so much to deter the average user. This model uses the non-touchscreen shell of the optical HR sensor of FR235 and puts it into a beautiful, lightweight triathlon watch.
The Forerunner 735XT is perfect for shorter distance triathlons because it has only about 14 hours of  GPS. It still has an adequate battery for daily tracking, optical heart rate monitoring, activity tracking, and smartphone features. This watch is suitable for athletes who want to record their activity but want a lighter weight watch.
Garmin Forerunner 735XT Review:
All and all this is a great watch. If you're looking for a small watch with a lot of features, this is a good choice, especially for beginning triathletes.
Pros:
Adequate battery life. It works well for shorter duration triathlon.

Good Strava integration. Automatically synchronizes activities.

Accurate heart rate data.
Cons:
The design is clean, but nothing too exciting.
Some users have reported dodgy Bluetooth connection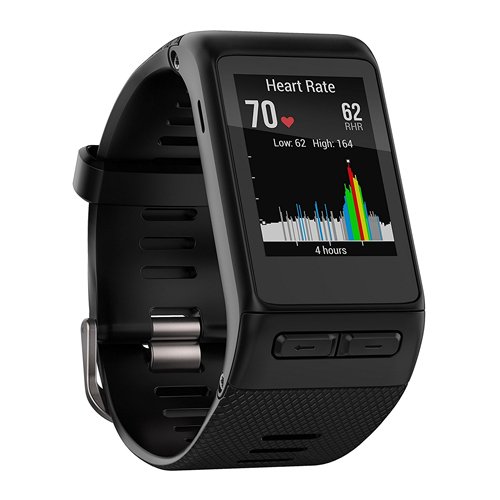 This watch is for athletes that regularly engage in multiple sports. It is perfect for people who want to track a variety of different activities. The Garmin Vivoactive HR is suitable for running, cycling, golfing, swimming, skiing, indoor cycling, and more. The Vivoactive HR is essentially the Garmin Edge, Fenix, Approach, Swim and Forerunner all mashed together.
The Vivoactive HR is waterproof up to 50 meters. It is easy to see outside, because of its always-on display. It offers all-day tracking for calories burned, steps, etc. It also includes smartphone features and can easily connect to your Android or iPhone.
The Vivoactive HR can do all-day tracking of many different activities. It has an optical heart-rate built in and GPS. The watch can do all this without having to be charged each night. It will remain charged for up to eight days or 13 hours with GPS signal active.
>> Related Content: Best GPS Cycling Watches
Battery life is about five days on average. It does GPS tracking at around 16 hours. It will work well even when the battery is very low; so you can push it pretty far.
Garmin Vivoactive HR Review
This watch is a good multi-activity watch. It may not be helpful to a high-level triathlete, but for people who are active with a number of exercises, it is an excellent watch.
Pros:
It has good sports tracking support
High battery life
It has everything you want in a sports tracker and is also a great everyday watch
Versatile
Cons:
It is not the most attractive model available
Screen could stand for some improvement​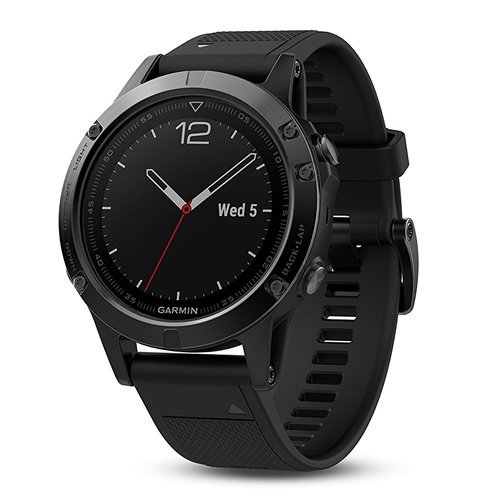 This watch is a GPS multisport watch that looks pretty sharp. It is not bulky or dull looking. It is a great watch for women because it is not huge or cumbersome. Its smaller size makes it easier to wear all day long. It is not too small though, but it is a size that you won't mind wearing for a longer period.
The Garmin Fenix 5S Sapphire is a full sports watch. It is suitable for running, swimming, cycling, skiing and more. It is 42mm, the smallest in this model. It is an excellent choice for women who do not want big a big clunky watch. You can wear the Sapphire 5S to work, at home or while out and about.
This watch has an always-on screen so you can see the time continually. Most people feel that the watch is comfortable, which is not a feature of all running watches. The silicone band can be changed to another color if you want variety.
Garmin Fenix 5S Sapphire Review
This is a great watch for activity tracking. It works for about every activity. It will work for runners, swimmers, steps and other sports. It is a great watch for people who want to wear it to work as well as for workouts.
Pros:
The watch is waterproof; this is a great feature for swimmers or rowers.
Great tracking features. It counts the number of steps per minute, stride length, and lactate threshold.
Good navigation sensors. GPS and GLONASS for more rugged environments. It has a 3-axis compass, gyroscope and barometric altimeter.
Accurate heart rate monitor.
Cons:
Battery life is only 24 hours in GPS mode. Most people feel that this needs to be longer. However, if left in smart watch mode, it can last up to 2 weeks.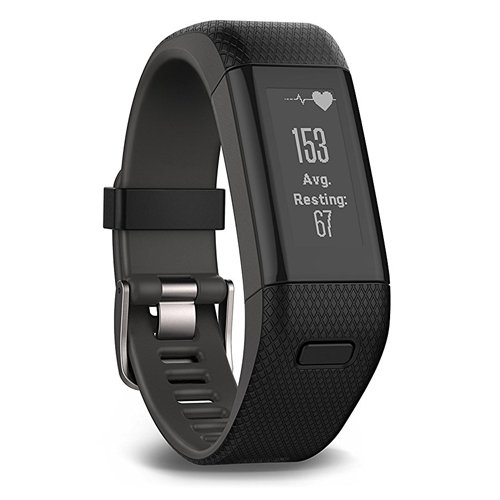 The Garmin Vivosmart HR is a watch for the fitness enthusiast. It uses MoveIQ technology to figure out what type of activity you are doing. It also offers all-day activity tracking as well. It has a continuous heart rate monitor that not only measures workouts but the quality of your sleep. It comes with GPS for improving the accuracy of measurements. Another key feature of the Vivosmart HR is that it can find your phone if you misplace it.
The design of the watch isn't jaw-dropping, but it is sleek and appealing enough to most people. The battery life is OK, but when compared to other Garmin watches, it misses the boat. The price is reasonable, so the look and battery life is not so bad when you consider this. You can get a chart at the end of the day that shows your heart rate for the entire day. Overall, this watch is an excellent value for the money.
Garmin Vivoactive HR Review
Pros:
Has an inactivity bar to let you know how long you've been still.
Measures steps climbed or descended.
Waterproof
Consistently monitors heart rate.
Cons:
Battery life is a bit short.
It is a bit too bulky for a lot of people, especially women. If you want a watch that you can wear to work and out on the town, it misses the mark a bit.
Not as comfortable to wear as other Garmin watches.
Garmin Connect
Garmin Connect is Garmin's native activity tracking software. It has been revamped to make it easier to focus on fitness goals and healthy living. It now includes digital insights. This feature nudges you to move if you are falling behind your goal. When you reach your daily goals, it gives you a shout.
Connect makes it easy to upload and share data with the network. You can challenge and compete with friends on various tasks and see the results, using the LiveTrack feature.
Connect allows you to use charts and graphs to see the progress you have made with your program. You can upload data from other devices that are compatible with Connect.
You can use Garmin Express to upload from most devices. You can also use many Bluetooth features with the app. Garmin Connect allows you to transfer data from an old tracking device to your new Garmin watch so that you won't miss a beat.
Garmin Connect lets you view previous activity with the Activity Player. You can display data in list format, calendar structure or other formats. The app helps you design workouts more efficiently with the Workout Creator. The app backs data up for you as well.
Tracking defined data like your weight and body measurements are also available. The app has a lock icon to allow you to select who can see your activity. The recent upgrades make Garmin watches top-of-the-line as far as functionality.
Choosing a Garmin Watch
Garmin has made an effort to provide tracking and smart watches that do everything except the laundry. They make staying active and in-shape easier, through tracking progress and motivating you to stick to your plan. You can easily track your progress each day and push just a little bit further each day until you reach your goal.
Staying active is not always easy, but with a Garmin cycling /running watch, you have a partner in the process. You get notified if you are slacking off, and congratulated when you reach goals. The apps cover a variety of different activities to help you achieve success with your workout and exercise program.
Garmin offers a variety of different watch designs for just about everyone. If you want to watch that can double as an everyday watch and a tracking watch, you have many options. The technology behind all of the watches that Garmin makes is truly second to none.
I have been a nature enthusiast since I was a small girl. My background is in online marketing and website development. It only makes sense to merge my love for nature with my skills in online marketing to help spread awareness, and appreciation for Our Beautiful Planet.
Summary
Reviewer
Review Date
Reviewed Item
Author Rating