Last modified on September 23rd, 2021 at 3:09 am
11 Essentials to Consider Buying Before Any Fishing Trip
If you are going on a fishing trip, the last thing you want to do is turn up without all of the equipment needed for the occasion. You're going to find yourself with an impossible battle on your hands if you do this!
Don't worry, though, as we have put together the 11 essential items you will need for your next fishing trip: 
1. Waterproof LED flashlight 
There is only one place to begin, and this is with a waterproof LED flashlight, which is something you can purchase via EcoGear FX. After all, you cannot guarantee that the sun is always going to be shining wherever you fish! Every angler needs a reliable and high-quality flashlight when fishing. When looking for a flashlight, consider the output and brightness, as well as weight, size, battery needs, and water resistance. 
2. Rod and reel
Needless to say, you are not going to catch a lot if you do not have a rod and reel! As is the case with most hobbies today, there are so many options for you to select from when buying angling gear. There are specific rods and reels created for each style of fishing, but it is best to keep things simple if you are a first-time angler. A medium-action rod that is rated for an 8lb to 20lb line is a recommended start, and you should be able to catch a lot of different species typically found in rivers and lakes with this rod.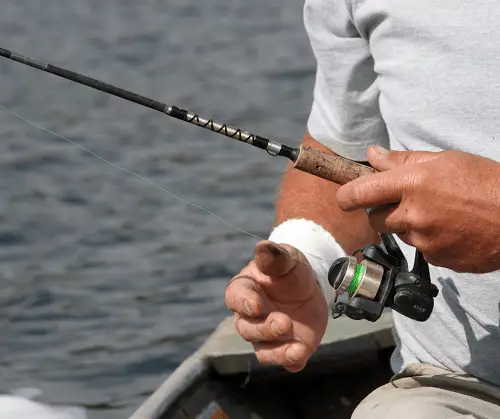 3. Tackle
Next, you are going to need a tackle. For first-time anglers, there are only three types of tackle you may need: floats, weights, and hooks. Weights are needed to offer more casting distance and ensure your bait remains underwater. Basic split shot weights are ideal for first-time anglers. They are easy to install and budget-friendly. In terms of hooks, go for those that are not snelled.
4. Live Bait
The nightcrawler is the most universal and arguably effective live bait out there. Pretty much every freshwater fish is going to eat nightcrawlers.
5. Tackle Bag
It's all well and good buying lots of tackle, but you are going to need somewhere to put it! Keeping organized will make your life a lot easier. You don't want your hands to be full while you are striding up and down the river bank looking for your next catch.
6. Lures
At some point, you are going to find yourself becoming a little bit tired with bait fishing, and you will want to enjoy a new challenge. If this is the case, we would advise that you start experimenting with lures. There are so many different colors, styles, and manufacturers to select from when purchasing lures. For first-time anglers, a lot of people like to go for soft plastics. Yamamoto is one of the most popular artificial baits for bass fishing. Spinnerbaits have been around for a lot of years, proving that they are a reliable option as well. If visibility in the water is low, these spinning blades will cause underwater vibrations that help the fish locate the bait.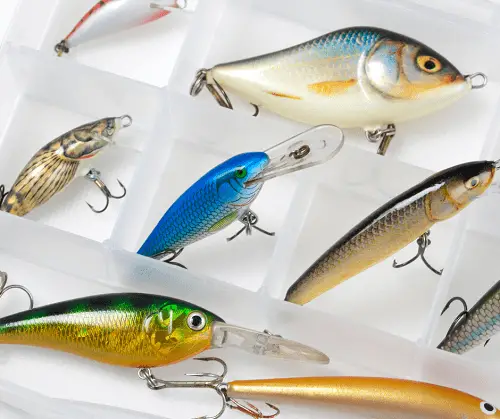 7. Castable fish finder
Picture being at your favorite lake but not being able to catch anything, no matter what lure or bait you try. If this is happening to you, there is likely to be one clear reason; the fish simply aren't there! Now, if you were able to see underwater, you would be able to efficiently determine whether or not there are any fish there. This is what a sonar device exactly will do for you! More and more people today are using wireless, castable fish finders, as it helps to make their fishing trips much more efficient. Plus, they are great for beginners!
8. Bobbers
Aside from the essential items that we have recommended so far, we also recommend that you get your hands on some bobbers. Also known as floaters, a bobber is a floating device that will sink when you have a bite. A bobber will act as a warning that you need to reel in! There are a number of different types of bobbers you can purchase. This includes slip bobbers, white and red plastic bobbers, as well as old school style bobbers, i.e., use any cork you have.
9. Clothing essentials
The clothes you wear while going fishing matter. Comfort should always be the number one quality to look out for when buying clothing for angling trips. Some of the basic items you should make sure to purchase are pants, a vest or jacket, waders, a windbreaker, a hat or other sun protection gear, and a towel. We also recommend that you pack a change of clothes, shoes, and socks.
10. First aid kit 
Last but not least, we certainly recommend that you purchase a first aid kit, especially if you are going on an overnight fishing trip or you are traveling quite far for the activity. After all, you never know what sort of dangers you are going to come across. Many people have experienced injuries due to sharp hooks, and sunburn can also be a problem when fishing. Some of the basics you should have in your first aid kit are antiseptic, sterile gauze, waterproof bandages, and over-the-counter medications such as pain relievers. 
So there you have it: the 11 essential items that you require when going on your next fishing trip. We hope that this will help you to feel more prepared for your day out on the water.