Last modified on August 3rd, 2022 at 3:08 pm
10 Great Ideas for Your Winter Family Photos
Winter is upon us, and with the season comes the opportunity to create memories with winter family photos.
Winter photos can be beautiful. Especially on a clear, crisp day with snow on the ground. Here is a list of ideas for taking winter family photos.
1. Scout out spots in your area where there might be clusters of trees, either in a nearby woods or park.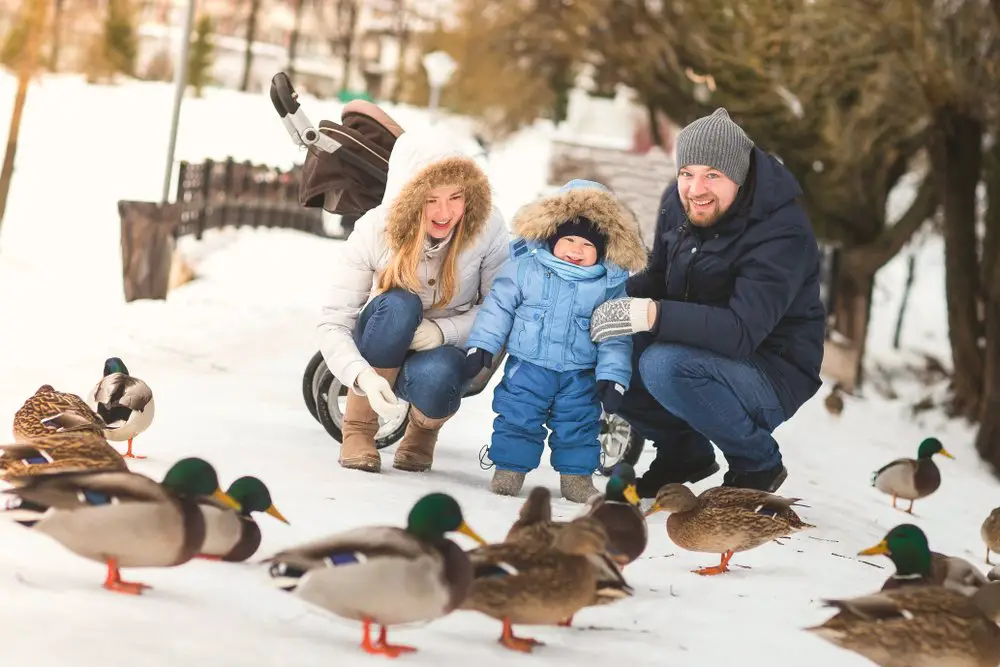 Bare trees or those laden with snow make a great backdrop. Choosing to pose in front of pine trees sets the tone for a winter picture.
2. If you have little ones or older family members that might not do well in outdoor winter settings, consider taking the pictures indoors near a large picture window with the winter scene as a backdrop.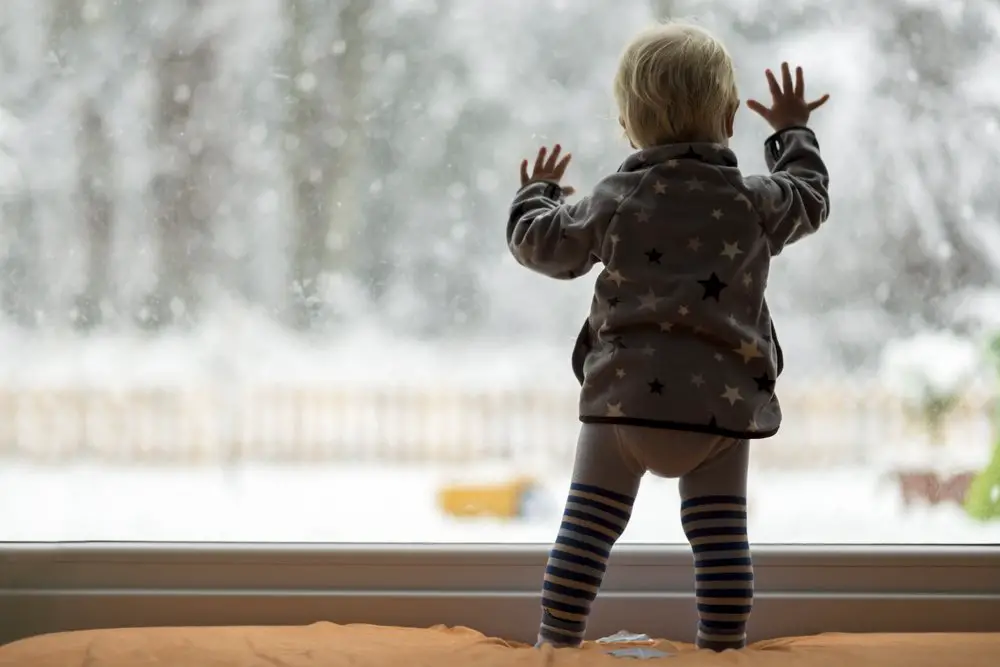 If you don't have a window that has a great view, look around where you live for an office building, public school, or library that would have a lovely hallway with a scenic wintery view out of the windows.
3. A popular idea for a winter family picture is a good old-fashioned snowball fight.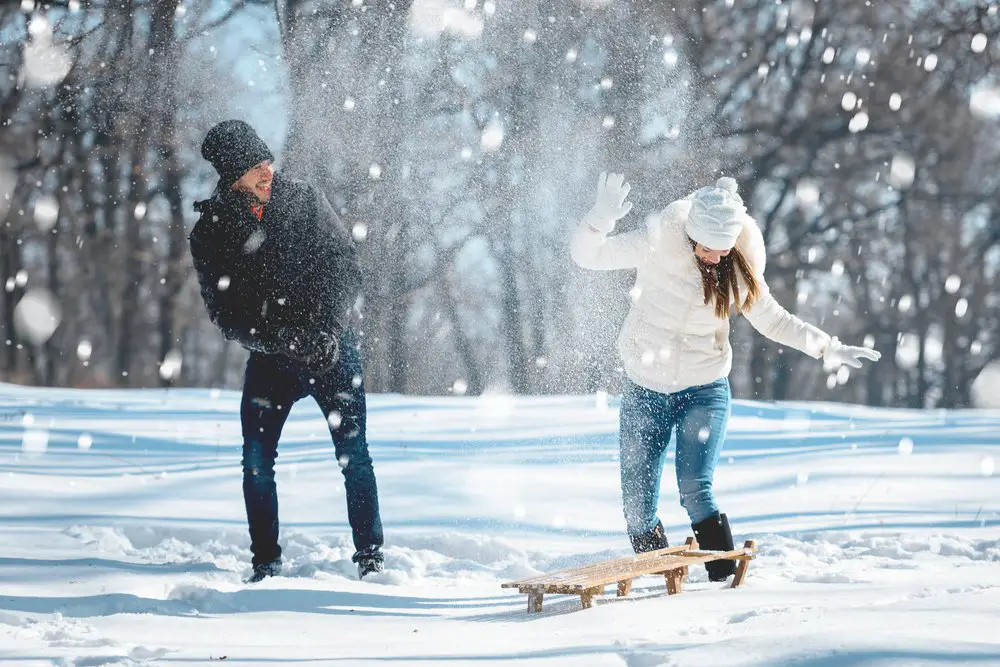 But make it a friendly one with gentle lobs of snow in other family members' general direction, not a full out strategic offensive. It can make for a fun and playful picture.
4. If possible, take Fido with you. Your pets are a member of the family, and where appropriate, try and include them in your wintery family shoot.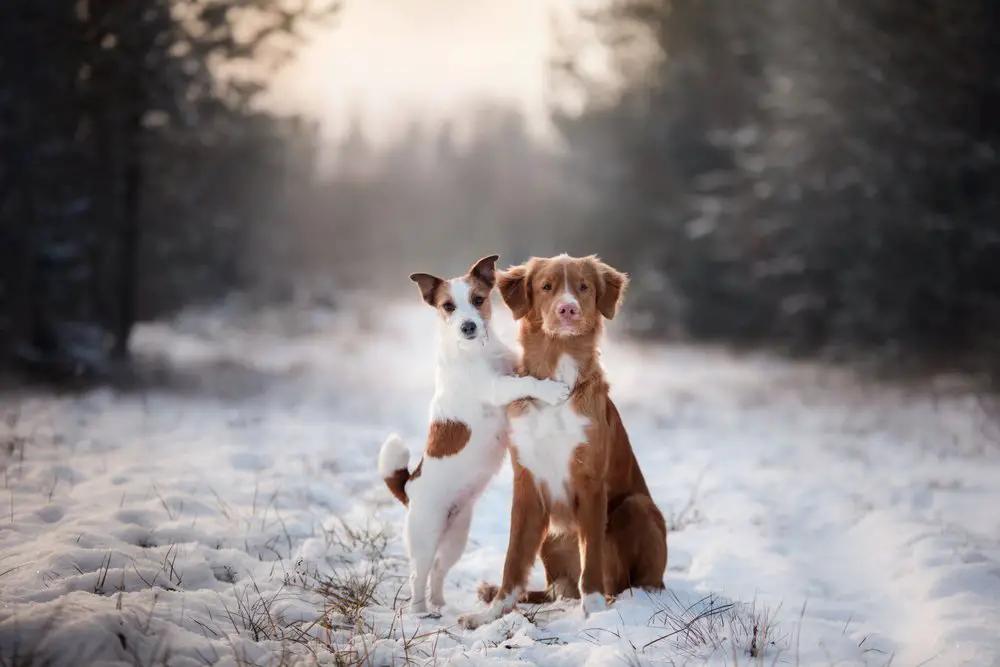 Adorn them with a scarf or hat to complement the rest of the crew.
5. Getting a winter family photo while participating in an activity will often bring out people's personalities more than a stiff pose will do.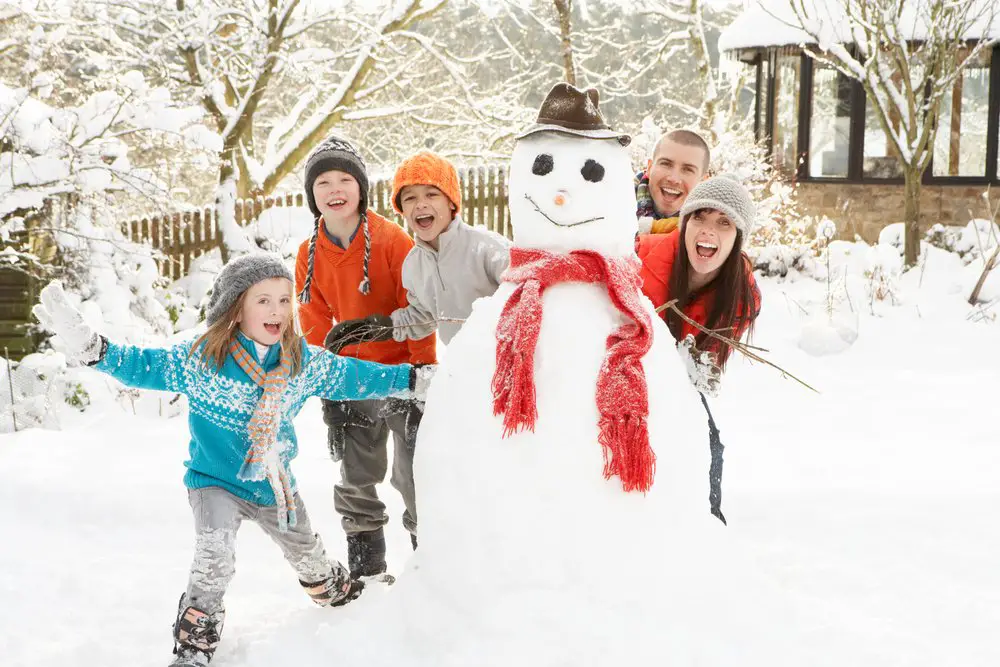 Building a snowman can be a great way to get candid photos during the process, and by the end of the snowy construction, pictures with the result will be less stilted and more natural.
6. A Christmas tree farm can often be the ideal place to get family photos in the winter. Few things say "winter" like pine trees do.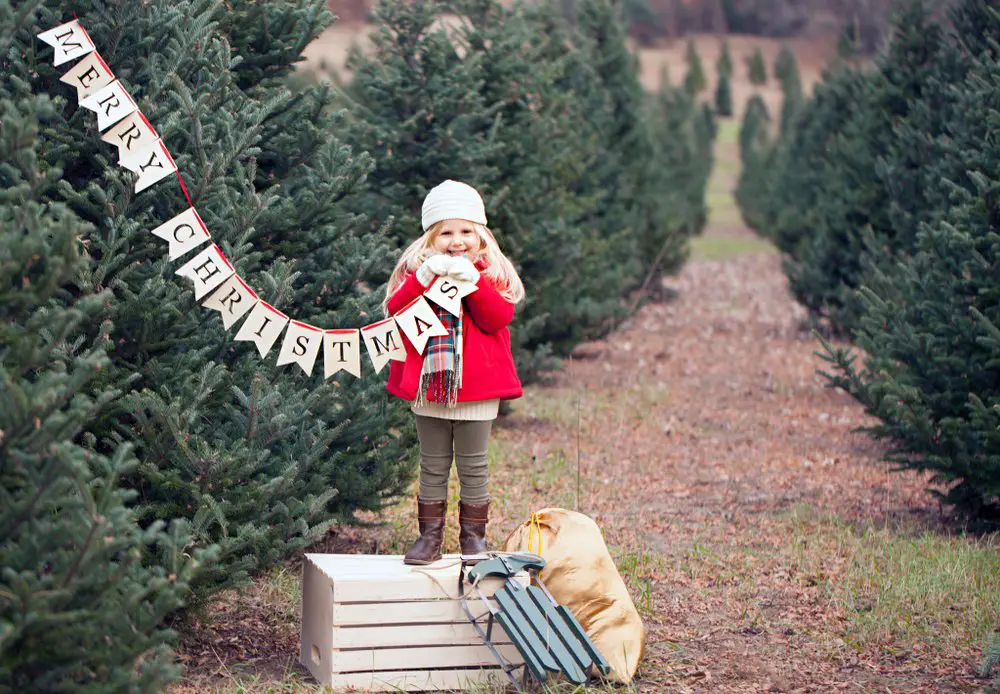 Have the picture taken while you are strolling up one of the paths between the trees, or have some family members posing in front while others peek out from behind the trees.
7. Bridges are always a great spot for any kind of photography, and a snow-covered bridge is sure to evoke the feeling of winter for years to come.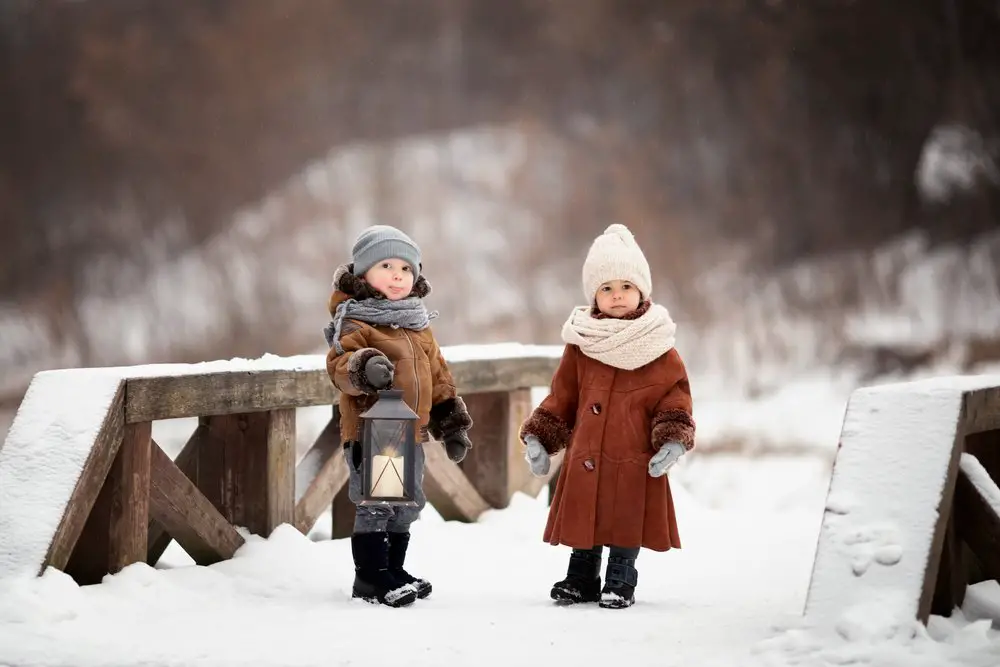 Parks often have bridges, and another spot that can often have a pedestrian bridge is a university campus. A shot on the bridge or with the family looking over the abutment always has appeal.
8. Having props for your family winter photoshoot is always an excellent way to add interest to the photos.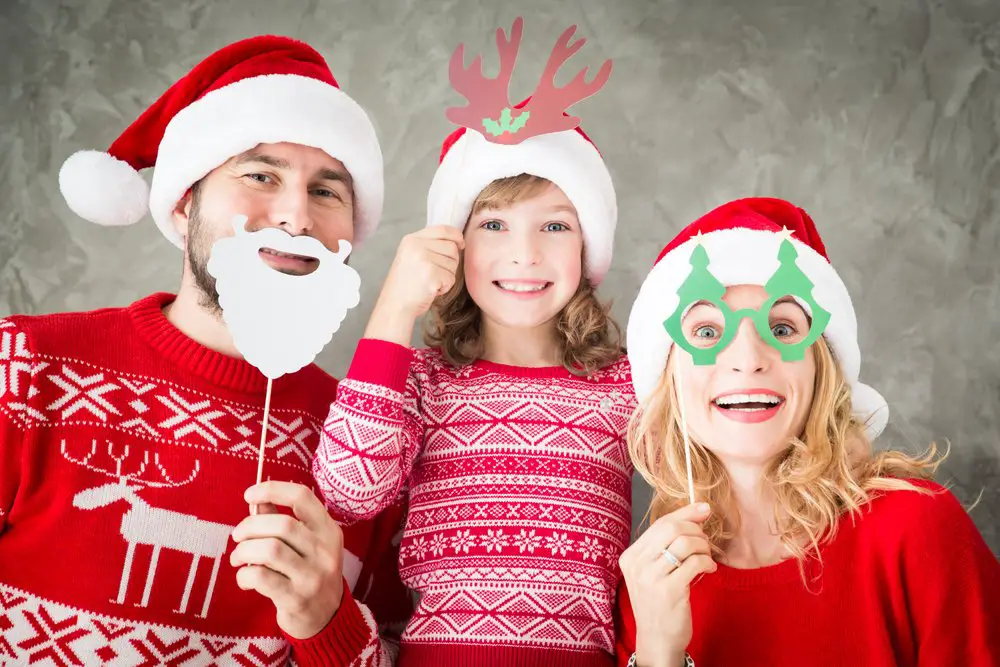 Sit the kids on a wooden sled, or have some skis propped in the background. Ice skates hanging around someone's neck are all evocative of the winter season and all it has to offer.
9. Not everyone has a drone, but some people have step ladders. Set one up outside in the snow, climb up the secure ladder and get pictures looking down at your family making snow angels, singly or collectively.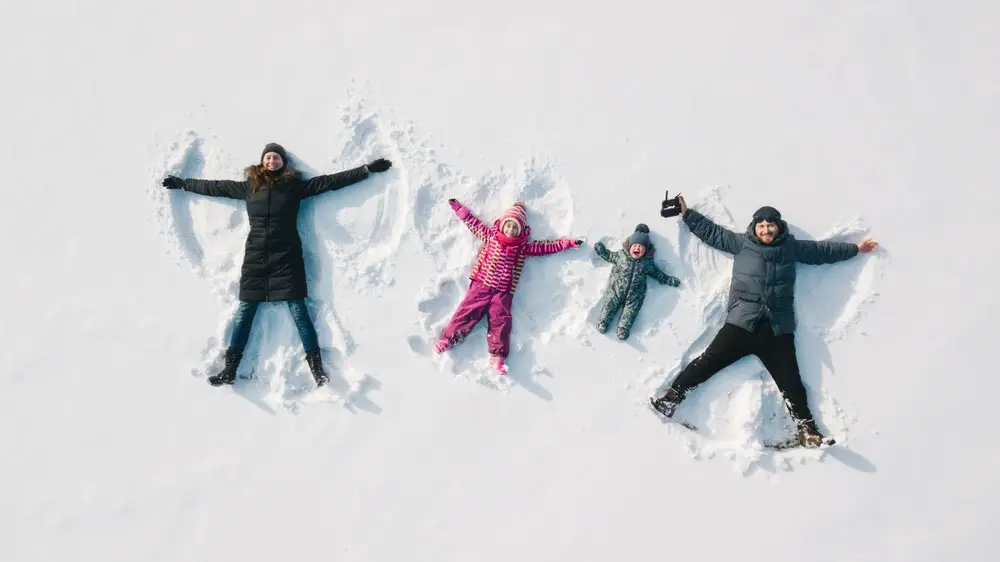 Snow angels have a timelessness that people of all ages remember doing. It is a traditional joy passed down for generations and will give your family photo a sense of continuation.
10. Lots of us have a pickup truck or know someone who does. Park a truck at a spot with a scenic winter backdrop, and use the truck's bed as your platform.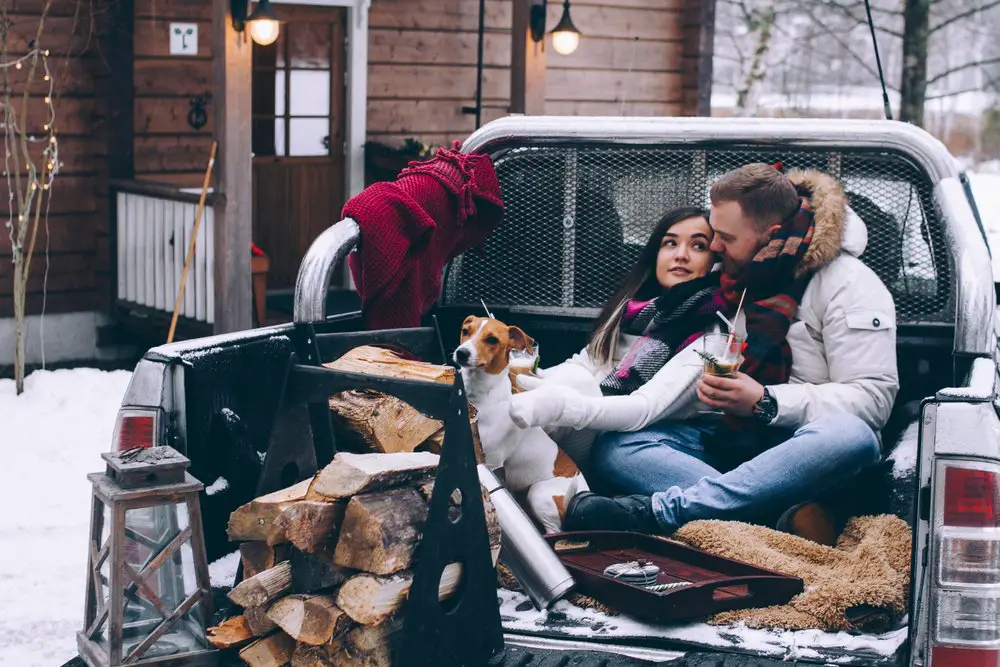 Throw in some bales of straw and partially cover them with plaid blankets. Have some family members seated in the truck's bed on the bales and some alongside the truck bed. 
Prop up a pine tree or make a winter display of snowshoes or skis for a rustic winter shoot.
Here Are some Tips When Heading Out to Take Those Winter Family Photos:
Dress For The Weather
While it might, for some, seem fun to dress in summer clothes in a winter picture, just remember that it is cold out, and you never take only one photo. 
It is a process that takes several tries, angles, and you may have to pose and re-pose several times. 
With younger family members, this will not fly but may end up in tears that spoil the pictures. Instead, especially with the younger ones, dress in layers. 
You can always take off an outer jacket, but it is better to be dressed for the weather and take your time getting the photos that you want.
Bring Backup Clothes
With young ones, if anything can go astray, it will. It just comes with the territory so expect the unexpected. 
Bring extra clothes, jackets, and hats for the ones that get dirty (usually in the first five minutes), get spit up on, or any other accident likely to happen when dealing with people who can count their age in months.
Bring Your Patience
Your photos are one brief moment in time that will last for all time. Make them good memories, not memories of frustration and annoyance. 
Go for your winter photos at a time when everyone has been fed, watered, and had a nap. 
Make it an adventure and know that it will not be "picture perfect," but pictures that will capture the essence of your family.
Try NOT to Match
If these are just fun photos, like pajamas, then run with it. But if there are going to go on your Christmas cards or you are going to want to frame some, try not to match exactly. 
It has a dated look when everyone's wardrobe matches. Go with a color theme, preferably warm or earth tones for the winter. 
Try to use various textures and colors that are similar in tone. The idea is to complement each other, not to match.
Other Tips for Winter Family Photos
Skip the clothes that have characters or logos on them. These are a huge distraction from faces and people.
Don't wear clothes that are too tight or too loose. They should fit you properly, and you should be comfortable with them.
Remember that your shoes will probably be showing. They should be clean, not flashy in color, or inappropriate for the setting. 
Get clothes for the family ready beforehand. Wash, iron, and whatever else needs to be done before the day of the photoshoot. It will make things less stressful the day of.
Once your outfits are ready, lay them out on a bed or couch side by side to see how they go together. Make any adjustments needed in your outfits.
Limit the patterns in your clothing. Textures are great, patterns not so much. If everyone had on a different pattern, it could make for a dizzying effect.
Some of the colors that do well in a winter photo are creams, tans, browns, medium to dark greys, ruby red, blues, emerald green, and dark purple.
If you want to have a winter picture with a lovely snow-covered landscape, then you will have to wait for the weather to cooperate. Be flexible with your date for the photoshoot and go when the weather sets the stage you are looking for.
Take some hand warmers with you. You can find these are sporting goods or hunting stores. Put some in boots or mittens to make the time outside more pleasant.
In Conclusion
Family photos never go out of style and are indeed memories that last a lifetime. There are numerous ideas for winter family photos that capture the essence of your family unit.
Whatever you decide to do for your winter family photos or how they come out, they will be a remembrance that you will cherish for a lifetime.