Last modified on September 15th, 2022 at 12:31 pm
Best Road Trips in the United States
Taking a road trip can be a great way to discover many of the hidden gems of the United States. Getting off the interstate and taking the back roads can take you to places that you wouldn't otherwise see.
If you're visiting the United States for the first time, you probably will head to the popular tourist spots. But if you're not a typical tourist, you might find that road tripping is quite an adventure — especially if you like driving. To drive around the US, you need an international driving permit. If you don't have one, don't fret. There are many IDP agencies to help you get an international driving license, so you can hit the road without a snag. Just make sure to do your research first and check online reviews of agencies before connecting with them. 
One great thing about a road trip is that you can plan it just the way you want, whether you want to spend time in nature, see views of mountains or oceans, learn about history and culture, or try some amazing food. Researching your route and figuring out where you want to stay and what you want to see and do is almost as fun as actually heading out on the road.
Don't have a car? Don't let that stop you. Car rentals can be quite affordable, especially if you keep your eyes open for deals on sites like Expedia. You can also save money on car rentals by booking for a week at a time, returning it to the same location, or renting from a location that isn't at an airport since airport locations often have additional fees. Regardless, it's important to be prepared and have the proper insurance before you leave on your trip. Check out Bonzah for some great car rental coverage at a great price!
Whether you rent, have your own car, RV or motorcycle, here are some of the best road trips in the United States:
The Pacific Coast Highway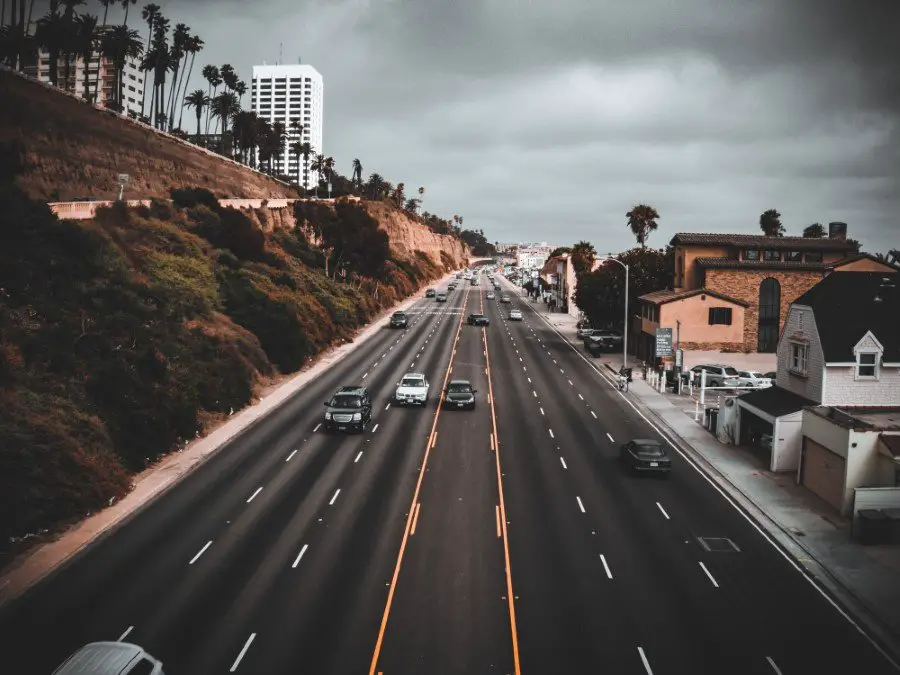 The ultimate west-coast road trip is the 1650 mile-long Pacific Coast Highway (PCH) which will take you from Seattle, Washington, through Oregon on US 101, and the entirety of California on Highway 1 ending in San Diego. (Taking the drive from north to south keeps you in the lane closest to the ocean's edge).
You'll see dense forests in Washington, rugged sea-cliffs in Oregon and northern California, and amazing beaches as you head further south. You'll experience the energy of large cities like Portland, San Francisco and Los Angeles with quaint small towns in between. National Parks such as Olympic in Washington, Lewis and Clark in Oregon and Redwood in California are easily accessible from the PCH.
Accommodations are easy to find, with campgrounds, bed and breakfasts, road-side motels, and name-brand chains in the larger centers. 
If you don't have a couple of weeks to do this road trip justice, you can easily break it up into more manageable drives. Some road-trippers take 4 or 5 days to do the drive from San Francisco to LA since this gives lots of time to explore all that the area has to offer – the ruggedness of Big Sur to quaint coastal towns like Carmel-by-the-Sea, or hiking to McWay Falls in Julia Pfeiffer Burns State Park.
Whether it's a short or long road trip, there's literally something for everyone along the Pacific Coast Highway!
Appalachian Trail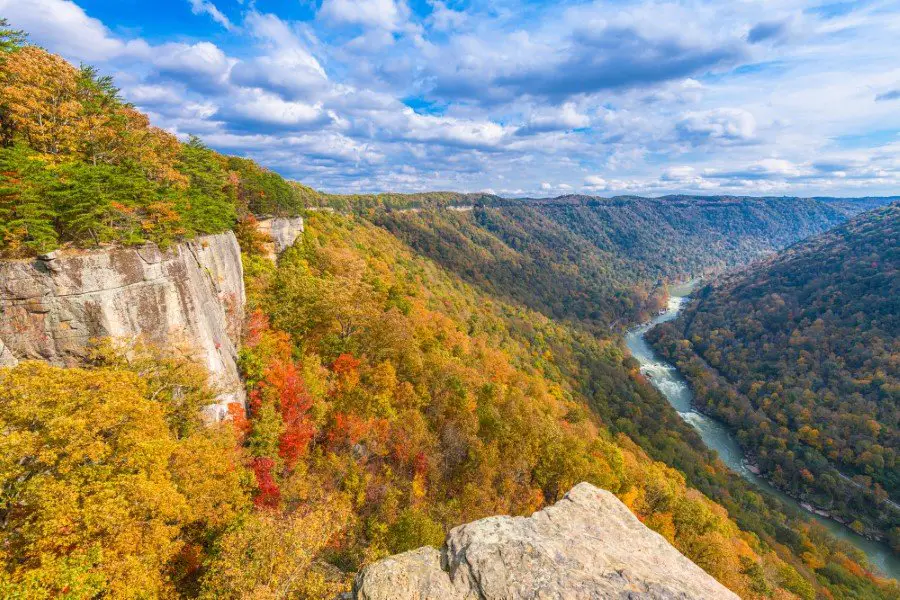 Similar to the Pacific Coast Highway along the west coast, the Appalachian Trail, which follows a route that parallels the famed hiking trail of the same name, travels through the eastern states, from Maine down to Georgia. While you won't get many ocean views, the picturesque views along the two-lane highways will offer some amazing views of mountains, valleys, rivers and take you through quaint, historic towns.
While hiking the 2190 miles of the Appalachian Trail can take up to 7 months to complete, this road trip can be done in a couple of weeks  (or more if you have the time to explore deeper). Taking this trip in the fall offers amazing opportunities to view the yellows, oranges and reds of leaves changing.
If taking two weeks to drive this path through these 12 states, there's a couple of shorter road trips that will give you a glimpse into the beauty of the Appalachian Trail:
Kancamagus Highway & Mt. Washington Auto Road, New Hampshire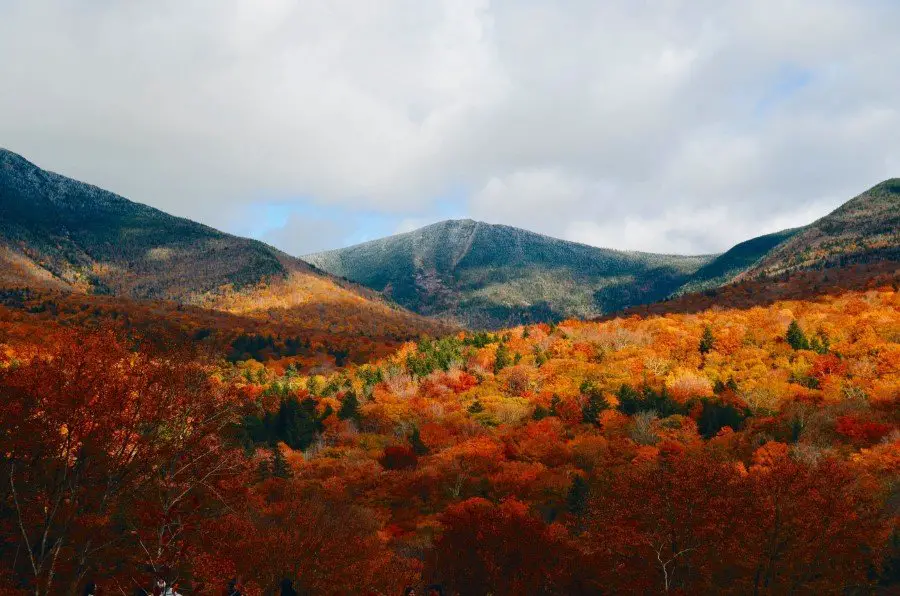 These two stretches of highway total less than 50 miles, so it makes for an easy day road trip. Along Rte 112, also known as the Kancamagus Highway, you'll drive through the White Mountains, drive through the Albany covered bridge, and see wildlife and waterfalls including the 45 foot Sabbaday Falls. If your car is in good shape, take the steep, twisting drive up to the amazing almost 6300 ft summit of the Mt. Washington Auto Road. If not, they can do the drive for you!
Blue Ridge Parkway, Virginia and North Carolina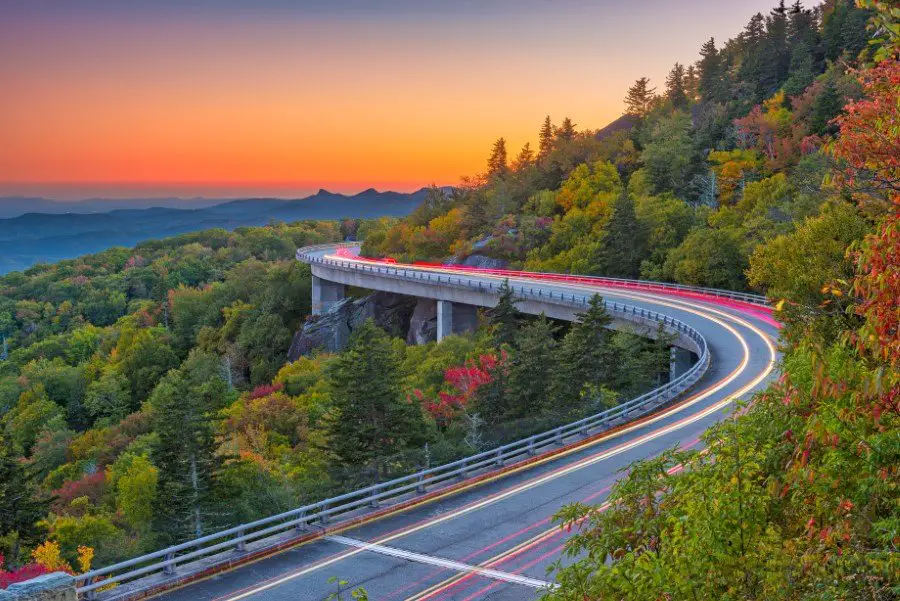 The Blue Ridge Parkway is known as "America's Favorite Drive" for good reason. There is so much to see and do along the 469 miles from Shenandoah National Park in Rockfish Gap Virginia, to the Great Smoky Mountains National Park in Cherokee, North Carolina. Along this drive you'll see gorgeous vistas and plateaus, travel through mountain tunnels, all with lots of opportunities to stop along the roadside to take in the views. While this drive can be done on a long weekend, many people take longer to explore all the Parkway has to offer. There are plenty of dining and lodging options along the way to make the most of your scenic road trip.
Click here for more information about the Blue Ridge Parkway.
The Great River Road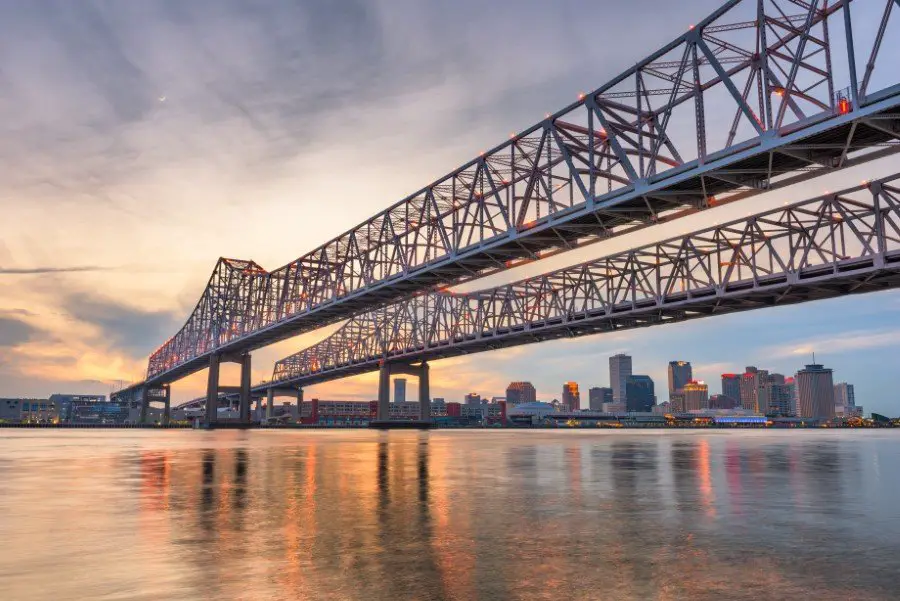 Follow the path of the Mississippi River along the Great River National Scenic Byway which stretches from Minnesota to Louisiana. This 3000 mile stretch goes through 10 different states and has much to see along this historically important stretch of America. As you follow the well-marked trail (white signs with green pilot's wheel), there are many interpretive centers along the path to help visitors understand the different aspects of river life. In addition to the riverside villages and towns, you'll also pass through St. Louis, MO, Memphis, TN and end your time in New Orleans, LA. As you travel through the different states you'll notice the changes in culture, music and food.
Most road-trippers take 10 days to make the most of the Great River Road, but if you're unable to take that amount of time, the Natchez Trace Parkway gives a good glimpse of Mississippi River life. This National Park serviced parkway is 444 miles long and runs from Nashville, TN to Natchez, MS and follows the historic overland route from the Mississippi and Ohio River valleys to the Gulf. There are lots of opportunities for camping and recreational activities with the National Park Service calling it "a drive through 10,000 years of history." 
Overseas Highway, Florida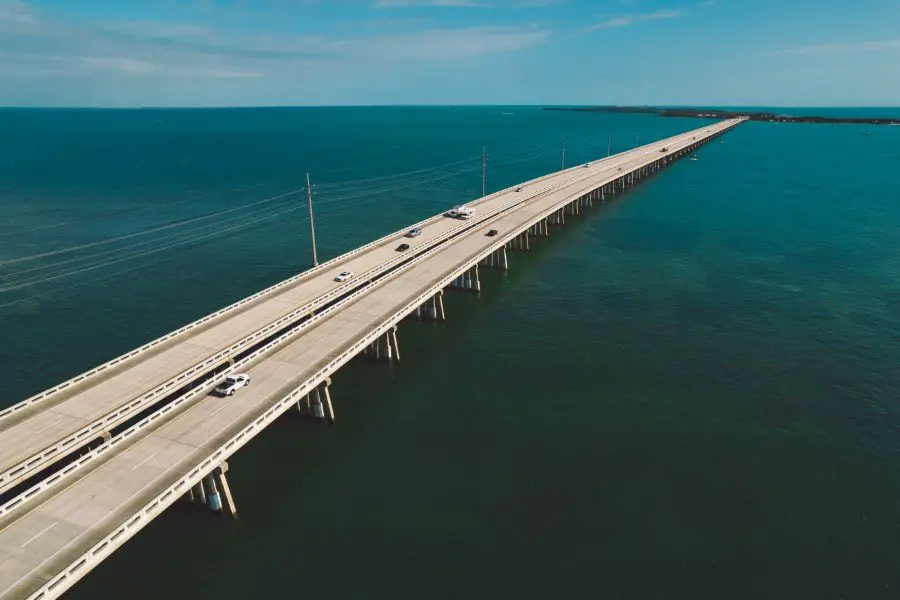 If a weekend road trip is more your speed, then the 165 mile Overseas Highway from Miami to Key West is ideal. Taking only 4 hours to drive end to end, there's so much to see along the way as you cross the 42 bridges connecting 44 islands, it's easy to extend the trip into a couple of days. There are many cafes and restaurants, shops, beaches, and recreational activities along the highway.
After leaving Miami, the first main center will be Key Largo, located in the Upper Keys. While there are restaurants and shops, you could take a snorkeling or glass-bottom boat tour in John Pennekamp Coral Reef State Park. 
Islamorada is considered a sport-fishing hot-spot, but there are galleries, a brewery and the Florida  Keys History and Discovery Center which has an app to download a historic walking tour of the area. 
Marathon, in the Middle Keys, is home to the Turtle Hospital and Dolphin Research Center, which both offer tours.
You'll cross the Seven Mile Bridge, the longest in the Keys, as you travel between the Middle and Lower Keys on the way to Key West. There are plenty of lodging, bars and restaurants in Key West and is a perfect place to rest your head before heading back to Miami the next day. Make sure you try a big slice of Key Lime pie when you're there!
Route 66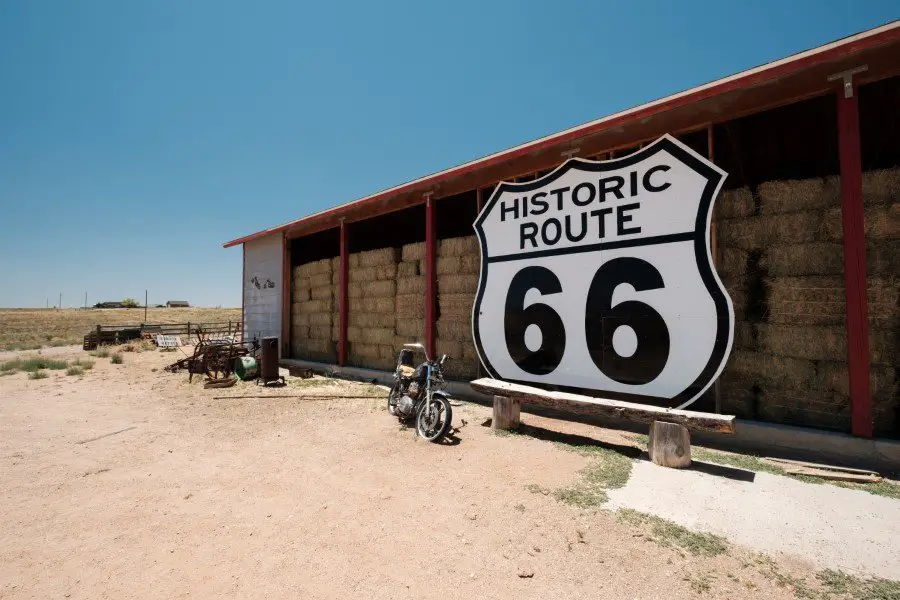 Perhaps the most iconic U.S. road trip is Route 66 which starts in Chicago and ends in Los Angeles. This over 2400 mile long historic route travels diagonally through the country and through 8 different states, showcasing the diversity of America. 
First designated in 1926, Route 66 today still has many of those historic elements when this was the main way to get to the west, even when the Interstate was built right on top of the original two-lane highway. Neon signs and billboards remind of "the good-old days" and kitschy shops, restaurants and motels still dot the road way. This trip back in time has weird road-side attractions and lots of diners where you can get a good American meal. 
Two weeks seems to be the minimum it takes to drive the route from end to end, though many people say in order to do it justice 4 weeks is necessary to do all the stops and any detours, like stopping at the Grand Canyon.
If you don't have the time, a good suggestion would be to travel from Oklahoma to Arizona. Here, you'll experience  the "Old West" of America at the National Cowboy & Western Heritage Museum in Oklahoma City, the landscapes of the Painted Desert in Arizona, and the history of Santa Fe New Mexico. 
Conclusion
The United States is a country of cars and roads, so the road-trip possibilities are endless, and this list is only a starting point. These trips are what you make of them, and there's always something interesting to see and do, regardless of how much time you have. Just make sure your car is in good shape, and if not, car rentals are plentiful and with insurance companies like Bonzah, you'll be sure to have a great, safe trip.