Buyer's Guide Table of Contents
Did you know that wakesurfing is one of the most dangerous (and fun!) wake sports?
Because you don't use a rope, it's really just you and your board. This means that choosing the right wakesurf board is going to mean the difference between having a great time and wiping out.
Wakesurfing is one of the newest wake sports, only having been around officially since the late 1990s.
There is an almost infinite number of boards available so choosing the best one for your needs can be tough!
Best VAlue
Airhead Bonzai
Hybrid style
Durable & lightweight
Affordably priced
Largest board handles up to 250 lbs
Editor's Choice
Driftsun Throwdown
Surf style board
Entry-level pricing
Fast & responsive
Aggressive but forgiving ride
On sale often
check Best Seller
Most Fun
Hyperlite Shim Wakesurfer
Skim style board
Very responsive ride
Great for beginners or experienced
Great airtime
[tcb-script type="text/javascript" src="//www.avantlink.com/link.php?ml=421497&p=172029&pw=219973″][/tcb-script]
So how do you choose a wakesurf board?
We have taken the time to review a handful of boards to help our readers make the most informed decision.
This buyer's guide is designed to help walk you through the wake surf board purchasing process so you can guarantee yourself that you are making an excellent purchase.
More on that later…
Here's a summary of the boards in this guide in no particular order! They are all great for different reasons. If you want to learn more, feel free to click to jump to details.
Product

Summary

Driftsun Rukus Wakesurf

Overall Rating – 4.5/5

Best for intermediate riders. This board will stand up to the adventure, but tide you over while you build your skills.

Connelly Katana Wakesurfer

Overall Rating – 4.5/5

The epoxy construction of this board makes it extremely light, buoyant and responsive board, for surf style riding.

O'Brien Fx2 V3 Wakesurf Board

Overall Rating – 4.5/5

 A favorite amoung their riders, the third addition to the FX series, the FX V3 is proving to be better than ever! Great for agressive surfers who are looking for a fast surf style.

Hyperlite Shim Wakesurfer

Overall Rating – 4/5

 Ideal for both intermediate and advanced riders who prefer a board that matches their skill levels.

CWB Connelly Bentley Wakesurfer

Overall Rating – 4/5

Even though the board is great for beginners, it has a sleek style that intermediate surfers will love.

Hyperlite 54 Byerly Action Wakesurf BWF

Overall Rating – 4/5

Designed in the Byerly R&D Lab in Melbourne Beach, Florida, the Hyperlite 54 Byerly wakeboard has an EPS foam core to add to the furability of compression-molded construction.

Airhead Charge Wakesurf Board

Overall Rating – 3.0/5

Perfect for the beginner and those new to the sport. Economical choice for the family.

Hyperlite Time Machine Wakesurfer​

Overall Rating – 3/5

Great for trick riding. Foam core helps increase air time. Great for spinning tricks.

AIRHEAD Pfish

Overall Rating – 4/5

Less expensive than Ronix, but still a great choice for beginners and experts. Steady ride and known for being just as good as boards twice the price.

Driftsun Throwdown – Editor's Choice

Overall Rating – 5/5

A fan favorite in the wake surfing community. Fast, responsive riding. Good for up to intermediate level. Easy to use, stable but FUN.

Slingshot Butter Bar XR Wakesurfer

Overall Rating – 3.5/5

An upgraded version of the Butter Bar, the XR features a visual appeal that puts other boards to shame. This board is the #1 seller for Slingshot Sports

AIRHEAD BANZAI Wakesurfer

Overall Rating – 4.5/5

Easy to get up on, the Bonzai has a classic shape good for beginners and intermediates. Great for smaller waves and bigger people.

Ronix Koal Classic Longboard

Overall Rating – 4/5

Surfboard inspired shape allows for greater buoyancy and stability. Sized to be a good fit for large and small riders alike.

Liquid Force TC Skim Wakesurf Board

Overall Rating – 5/5

The Liquid Force TC Skim Wakesurf board has a fan favorite skim shape in a new lightweight design.
Now that we've got that out of the way, lets learn a bit about how to choose the best wake surf board for your particular needs.
Here's what you need to know.
What is Wakesurfing?
Wake surfing erupted to the surfing scene in the 1950's when a couple of teenage boys decided to see what would happen if one was pulled behind a boat on a surfboard, and from there it has become a popular past time of many water sprits enthusiasts. Back at it's arrival, a regular surfboard was used for wakeboarding, but as it grew in popularity and more demand for the sport rose, companies started designing boards made specifically for wakeboarding to improve the ride. From there, the demand for the best wakesurf board grew.
Currently fifteen different companies produce and design boards for wake surfing, and a variety of styles now exist on the market. The wake board has come a long way from its original origins. Now boards are formulated for different types of rides. Whether tricks are the specialty or just a fast, slick ride on the water.
Styles of Wakesurf Boards
There are three styles of wakeboards to choose from, and for the beginner, deciding about which one to invest in can appear daunting. But each style of board is designed for a specific purpose in mind. The three wake surf board styles on the market currently are the surf style, the skim style, and the hybrid models.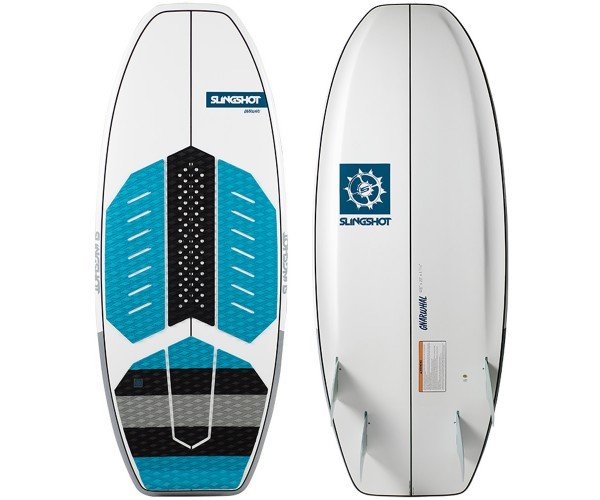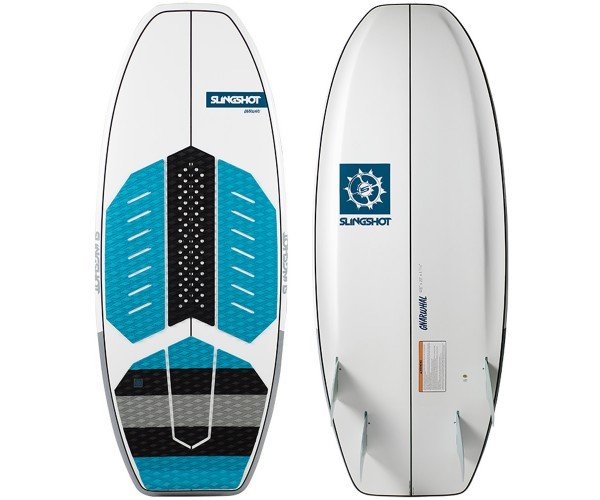 Surf-style Wakesurf board
Surf-Style Wakesurf Board
The surf style of wake surf boards is designed after the traditional surfboard. These boards have a higher buoyancy than the other two styles, because of its longer fins and thicker body, and it ideal for those who are beginners in the sport. The surf style board is also ideal for having a wake surfing experience like average surfing, as it is good at catching and riding on waves. Also, able to reach high speeds and is said to have an 'explosiveness' factor. This model is also able to suit larger sized riders.
Skim-Style Wakesurf Boards
The skim style wake boards are thinner and shorter the its surf style cousin, this style is suited for more advanced riders who enjoy performing aerial tricks. Since it is a lighter board it is recommended for use with smaller sized riders. With its smaller fins and thinner body, this style of board is not built for speed, but the shape makes it perfect for performing skateboard inspired tricks.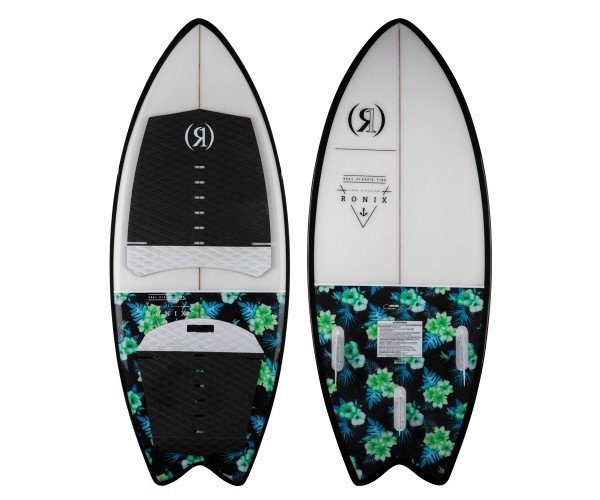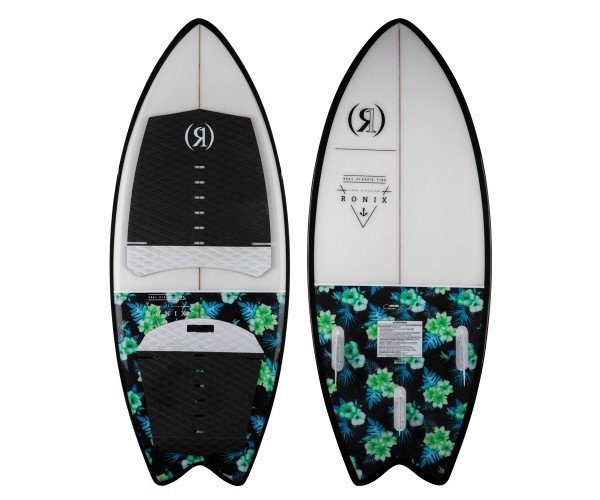 Skim-style Wakesurf Board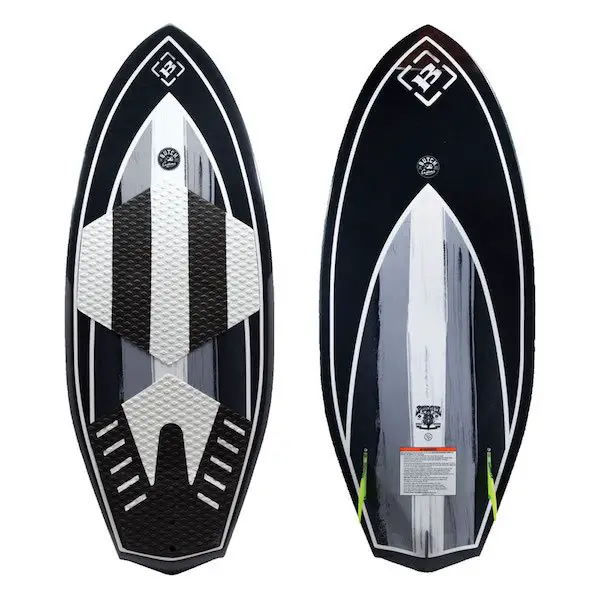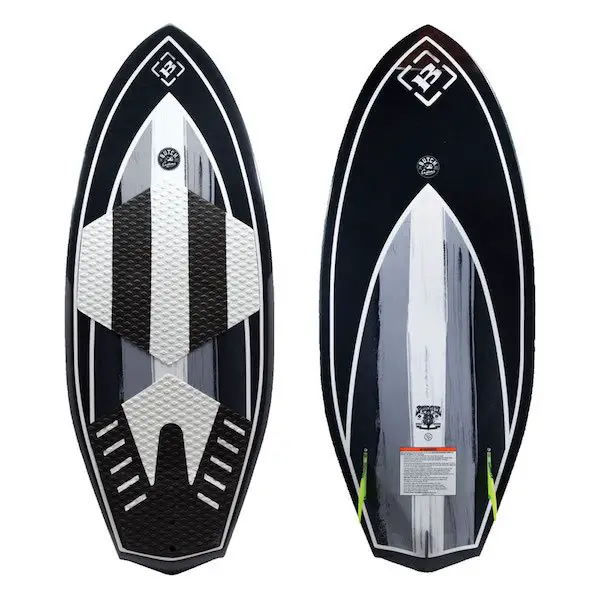 Hybrid-style wakesurf board
Hybrid-Style Wakesurf Board
The third style of board available is the hybrid. Like the name suggests this style is based off components from both, the surf and skim style wakeboards. These models contain the best of both world, with the speed and sturdiness of the surf style, yet the maneuverability of the skim style. The Hybrid is suitable for all levels of wake surfers, and sizes.
Wakesurf Fin Options
While three options of body are available, there are also multiple other choices that can be made when purchasing a wake surf board. A major one is the fins used. Often an overlooked aspect when purchasing, the fins can greatly improve the quality of the board and ride, and play an important part in getting the best out of the board type purchased. There are four fin styles available and they are, the single fin, the twin fin, the thruster, and the quad style of fin. Each has their own unique purpose.
The single fin setup is, as it states, a single fin, that acts as a rudder for the board. It offers stability, hold, and control, but ca not help generate speed, so this style of fin is recommended for those who wake surf with larger waves.
The twin fin is a double finned board and has been compared to a 'skateboard on the water.' It offers a fun, exciting ride, and is best suited for smaller waves.
The thruster is a tri finned board, and is the most popular among wake surf board users. The center fin offers control, while the two side fins generate speed. This setup is perfect for all conditions of wake surfing.
The quad Fin is built for speed. Its four fins, two on each side, offer a fast and loose ride and allows the board to shoot down the line during a ride. It is best suited for wake surfing with big waves.
There are many options of wakeboard in each style available, listed below is the top rated boards for each style, Surf, Skim, and the Hybrid.
Best Wakesurf Boards By Type: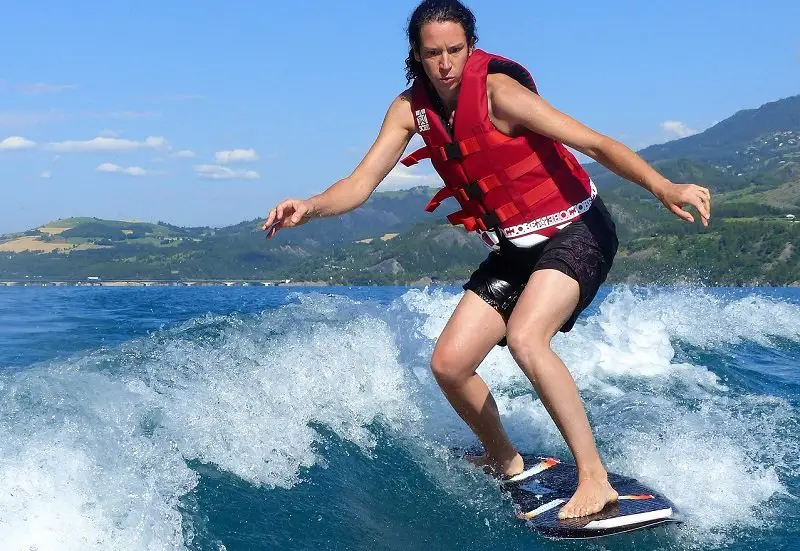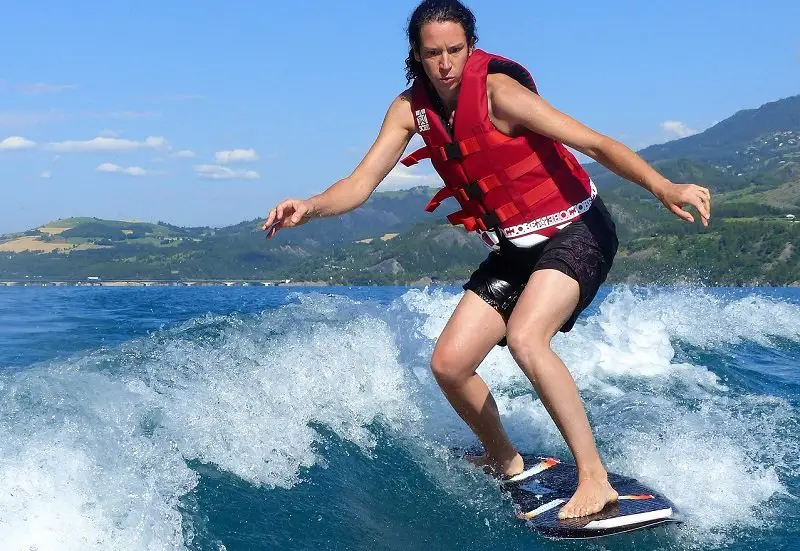 Here's a quick preview of how the rest of this article is broken up. First you need to decide what type of wakesurf board you want, then you can choose the one thats the best for you
Skim Style
Hyperlite Broadcast
Airhead PFish
Driftsun Fifty Fifty
check Byerly Speedster
check Ronix Hex Shell
Surf Style
Ronix Honeycomb Powertail
Slingshot Gnarwal
Ronix Koal Classic
check Driftsun Throwdown
check Ronix Marsh Mellow
Hybrid Style
Liquid Force Primo
Phase Five Model X
Byerly Action
check Liquid Force Super Tramp
Best Wakesurf Boards
[tcb-script type="text/javascript" src="//www.avantlink.com/link.php?ml=421497&p=172029&pw=219973″][/tcb-script]
Hyperlite Shim Wakesurfer
Pros

Cons

 Lightweight and responsive
Dura-Shell construction for durability

A reviewer received his board scratched and delaminated
From Hyperlite, the Shim Wakesurfer offers you the great performance of a regular surfboard, but the control and contact of a skimmer. This combination gives the board a versatility that all can enjoy. It has a fast rocker line that generates speed with ease, and allows the Shim to surf curls in various shapes and sizes.
With a tapered profile, the Shim is nimble enough for spins and airs. A full EVA traction pad covers the entire deck so that riders of all sizes will feel comfortable and in control on the Shim. The board comes with Futures fin boxes. You can ride with the outside Future fins, which will give the board a more surf-type feel. Or you can just use the single center fin to ride the board as a skimmer.
Airhead Pfish Skim Style Wake Surf Board
Pros

Cons

Incredible value
Offers a steady ride with good footholds
Great for beginners

Lower quality materials cut cost, but also cuts overall durability
A more affordable option is the 'Airhead Pfish Skim Style Wake Surf Board'. Though less expensive than the 'Ronix' model mentioned beforehand, this board is still a fan favorite and widely popular among wake surfers, beginners and more advanced surfers. This board offers a steady ride with good footholds and on the Airhead website, it is described by stating "You'll be doing air reverses and shove-its in no time!" and, "Our test riders have liked it better than boards that sell at twice the price." It is one of the best wakesurf boards for beginners.
The 'Phish Skim Style' is available In one size and holds up to one hundred and seventy five pounds. It is one of the most popular boards on our list.
>> You May Also Like: Best Paddle Boards For Beginners
Pros

Cons

Economical way to try wake boarding
Great for the family
Good for beginners
The Charge by Airhead is a full foam wake surf board. While this board is not the top-of-the line, it is a great way to introduce you and your family to wake boarding. This board won't break the bank while you are learning about the sport.
You will find that the Charge is quick to accelerate on the waves. A feature that you find in higher priced boards, the Charge has a removable three fin system. This setup will provide agility when turning and more control for the forward movements.
Newcomers to the sport will appreciate the deck and its soft and grippy EVA pad that provides comfort and steerability. The board also has a 4-inch nose rocker and a backboard kicker. The Charge is a great way to economically try wake boarding for yourself.
Pros

Cons

Easy to maneuver
Lightweight
Sturdy and strong

Can be too thick for some racks
The Driftsun Rukus wakesurf board has a hybrid surf style that keeps intermediate and advanced surfers in mind. Designed with precision and style, the 4 foot six inch board has composite construction and carbon fiber vector netting.
The built in fins will help you to keep your momentum though the waves. With a total of four fins, two surf and two trailing, their placement will give you greater control moving in a forward motion. If you prefer, you can remove two fins for even more control.
The hand finished EPS foam core has a rigid natural wood stringer. You will feel comfortable on the diamond machine cut EVA traction pad on the deck of the board. It sheds water quick. A hybrid surf style board, the nose is squared and the Driftsun has a rocket tail. The Driftsun will have you wanting to be on the water all the time!
Pros

Cons

Great beginner board
Comes with fins
Good for larger riders

Fins are included, but sometomes not sent with board
A generous size board at 63", the Banzai is a tribute to the "Woody-style" surfboard that were so popular in the 60s. This classic shape makes it easy to get up on and tends to be more forgiving when riding waves. It is perfect for cruising. The Banzai features a taped profile and surf style rocker.
Great board for a beginner, the large EVA pads on the deck provide secure footing and greater control. The compression molded design give a stable ride and excellent durability. Three profiled fins are mounted in recessed fin boxes, so you do not have to buy those separately.
On the Banzai, the pin-shaped 2 ½" rocker makes the board fast. Sized specifically to be comfortable for all, this board will accommodate a variety of riders whether beginner or experienced.
Pros

Cons

Has a five fin option
Has machined EVA pads for traction and control
The rails on this third FX version have been rounded out provide more of a traditional surf feel. You will get a consistent and predictable ride, with high maneuverability and an effortless drive down the wave.
The FX V3's squared off nose minimizes nose dives and makes it easier to ride. The board itself is made from hand laid epoxy, both break and buckle resistant yet with a natural flex pattern. The FX V3's carbon stringer provides strength and responsiveness to the board.
CWB Connelly Bentley Wakesurfer
Pros

Cons

Board is easy to control
EPS foam core

 Grip tape has a tendancy to peel up
The Connelly Bently has an entry level price point, and while it is a great board for those just learning, the board also performs when a skilled rider is aboard. The hybrid design of the board means that it will have the features of both a skim and surf style wake surf board.
A flat, minimal rocker line will give you acceleration and speed. A tapered tail makes the board sit lower in the water, which give the rider more control and eaiser tracking.
With a Thermo Shell construction, the Connelly is extremely durable, yet lightweight with a responsive feel. The one piece EVA traction pad will make any rider feel in control and comfortable. Two flat foil fins provide grip, but can still break free off the lip of the wave.
Pros

Cons

Lightweight, buoyant gives a laidback ride
Very durable board
Longboard style is great for steady surfing

Comes with a center fin, but others have to be purchased separately
Another high quality board from the water board company 'Ronix', the 'Koal Classic Longboard Wake Surf 2018 Board' is a high quality laid back model.  It delivers a lot of push with its light body, and holds a very buoyant surfboard inspired shape. This longboard style wake surf board handles all sizes of waves perfectly and with ease, and is great for novice riders and even professionals.
The 'Ronix Koal Classic Longboard' can suit all sizes of riders, being composed of a lightweight core, that also increases durability and strength. The board comes equipped with a center fin with options to buy more and customize the board to personal preference. It is also available in two sizes, those being four feet and ten inches, and five feet and two inches.
If you value stability and control, this may be the board to consider.
Pros

Cons

Amazing value, best on the list for the money
Adjustable quad fin set up
Extremely versatile, you can curve and cruise all on the same board

Not many design options, but overall a really solid board that's worth every penny.
Holding onto a strong five out of five star review reputation, the 'Driftsun Throwdown Wake Surf' is a fan favorite among the wake surfing community. This surf style board features a kick flip back end, and a quad fin setup, to deliver a fast and responsive ride. The fins can also be adjusted if needed.
Measuring in at four feet and eight inches, this board is ideal for wake surfer up to an intermediate level as it is easy to use and very stable, allowing learning to come quickly and easily. It is also a stronger board being able to hold riders up to two hundred and fifty pounds.
The Driftsun Throwdown has gained the editors choice due to its sheer versatility and quality. You can carve and cruise on this board without problems. It's forgiving enough to hone your skills but fun enough to still have a blast with tricks.
Connelly Katana Wakesurfer
Pros

Cons

The bat tail on the board give a good grip when turning and helps with forward drive

Board is a bit on the shorter side
Good for small to medium waves only
The Katana has width and volume in the tail of the board to give this board plenty of push. Equipped with round rails in the front, the board is forgiving and buoyant. The tip stays above water while the sharp rails along the tail give you control.
The Katana is a surf style board that has a stable rail to generate speed when edging. The board will be perfect for cutbacks and big carves.
The fins on the board allow water to pass through the center line without resistance. The curved outer surface of the fins create lift and hold on the face of a wave.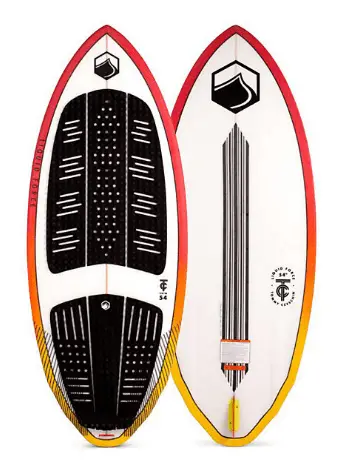 | Pros | Cons |
| --- | --- |
| Best for intermediate and advanced riders | Not the best board for beginners |
The TC Skim has a EPS core that is lighter in weight than previous versions of this skim board. Added are a carbon tail wrap and LF carbon center tape that give the board additional strength and stiffness.
The design is a return to the classic skim with channels out the tail to give the rider extra hold in the wave. The board is made of hand laminated fiberglass with a single concave hull and quad channels. That construction makes the TC Skim light, fast and aggressive.
A pin tail on the board is the narrowest of all tail shapes. This gives the rider a directional surf and maximum water flow. The design also holds tight on waves and minimizes lift.
Slingshot Butter Bar XR Wakesurfer
Pros

Cons

The boards pin tail allows it to be ridden in either direction
Great board for both beginners and advanced rider

The board is less buoyant than most skim style boards
Slingshot Sports added XR carbon reinforcement to their Butter Bar skim style board to give it a stiffer platform. Both beginners and advance riders will be able to take advantage of this improvement. Fans of the original Butter Bar will appreciate that the carbon matrix overlay makes the board more reactive.
It is like the turbo version of its predecessor. The Butter Bar XR is best suited for riders that like a slippery ride that is easier for spins and other tricks. The design of the pin tail enables the board to be ridden both regular and switch no matter what direction the board is facing.
The flatness and width of the board gives quick acceleration, and the double concave hull provides quick edge to edge transitions. The rider can customize the three fin configuration to add to the versatility of the Butter Bar XR.
| Pros | Cons |
| --- | --- |
|  Dura Shell construction makes the board durable | |
An EVA traction pad covers the entire face of the Byerly Action wake surf board. While it looks great, its main function is make aerial tracks a breeze. The traction gives the rider stability no matter where their feet land. Both the newcomer and the experienced rider can appreciate this aspect of the Byerly.
The board comes with five slim and shallow fins. The fins can be installed in whatever manner you prefer. If you use just one or two, you will get a looser ride, or install all five and you will not have to sacrifice maneuverability.
Mimicking a skateboard on the water, the Byerly Action wake surf board will be ideal for surface spins. The squash tail is a very versatile shape giving a balanced feel. The rider will have both stability and maneuverability because of the square and round tails.
Pros

Cons

An EPS core with a full cork top
Layered glass on the Hyperlite deck will not seperate like woven glass will

Return policy is a short 30 days
The Time Machine has a full cork top, unlike any other wake surf board. Once the cork gets wet, it produces a squishy, yet soft feel that a riders feet can easily grip. A traction pad has also been added to give the rider arch support and a push off point.
The dual concave in the tail of the Time Machine give a fast ride for surfers up to 220 pounds. A wider shallow tail design will help to generate momentum down the wake, yet keep its agility at higher speeds. With a chopped tip nose, the rider is less likely to bury the board on surf type maneuvers.
The sharp rail will accommodate turns, carves and slashes. The Time Machine has the Futures Fin system that makes for a customized ride that can adapted quick and easily. As with all Hyperlites, the Time Machine has a dura-shell construction which resists dings and cracks.
Choosing The Best Wake Surf Board
Choosing a new wake surf board can require a ton of research. There are a variety of different styles for different types of riders, along with a broad range of quality and pricing options. If you are a beginner, a surf-style board may be the best option as they tend to be more buoyant and forgiving. Skim style and hybrid models are more suited for experienced surfers.
We hope this review helped narrow down the options for the best wake surf board for your needs. Let us know what you think of our review in the comments section below and share your thoughts on these awesome boards!
Side Note: If you're interested in wake surf boards, you may also be interested in other water sports. We have an updated review on the best fishing kayaks under $500. If you're interested, read our article about it to learn more.
[tcb-script type="application/ld+json"]{"@context":"http://schema.org","@type":"Review","name":"Our Beautiful Planet","url":"https://ourbeautifulplanet.org/best-wakesurf-board/","description":"Our Beautiful Planet provides un-paid, un-biased reviews on sports and outdoor equipment that our readers can trust!","reviewBody":"Best suited for intermediate or expert riders. It is a fast board, but you'll have a blast if you know what you're doing.","author":{"@type":"Person","name":"Julie Adams"},"itemReviewed":{"@type":"Thing","name":"Byerly 5.2 Speedster"},"datePublished":"11/07/2018″,"reviewRating":{"@type":"Rating","ratingValue":"4″,"worstRating":"1″,"bestRating":"5″}}[/tcb-script] [tcb-script type="application/ld+json"]{"@context":"http://schema.org","@type":"Review","name":"Our Beautiful Planet","url":"https://ourbeautifulplanet.org/best-wakesurf-board/","description":"Our Beautiful Planet provides un-paid, un-biased reviews on sports and outdoor equipment that our readers can trust!","reviewBody":"Built for speed, durability and cost effectiveness. It's soft top design means it is light and fast, but isn't as expensive as other premium materials.","author":{"@type":"Person","name":"Julie Adams"},"itemReviewed":{"@type":"Thing","name":"Ronix Marsh Mellow Thrasher"},"datePublished":"11/07/2018″,"reviewRating":{"@type":"Rating","ratingValue":"4.5″,"worstRating":"1″,"bestRating":"5″}}[/tcb-script] [tcb-script type="application/ld+json"]{"@context":"http://schema.org","@type":"Review","name":"Our Beautiful Planet","url":"https://ourbeautifulplanet.org/best-wakesurf-board/","description":"Our Beautiful Planet provides un-paid, un-biased reviews on sports and outdoor equipment that our readers can trust!","reviewBody":"Designed for riders who want more contact with the water. Great for stability and balance without sacrificing speed and trick ability.","author":{"@type":"Person","name":"Julie Adams"},"itemReviewed":{"@type":"Thing","name":"Ronix Honey Comb Powertail"},"datePublished":"11/07/2018″,"reviewRating":{"@type":"Rating","ratingValue":"3.5″,"worstRating":"1″,"bestRating":"5″}}[/tcb-script] [tcb-script type="application/ld+json"]{"@context":"http://schema.org","@type":"Review","name":"Our Beautiful Planet","url":"https://ourbeautifulplanet.org/best-wakesurf-board/","description":"Our Beautiful Planet provides un-paid, un-biased reviews on sports and outdoor equipment that our readers can trust!","reviewBody":"Designed for speed and airtime. Nicknamed the fun board. Great for any skill level.","author":{"@type":"Person","name":"Julie Adams"},"itemReviewed":{"@type":"Thing","name":"Ronix Koal Classic Fish"},"datePublished":"11/07/2018″,"reviewRating":{"@type":"Rating","ratingValue":"4″,"worstRating":"1″,"bestRating":"5″}}[/tcb-script] [tcb-script type="application/ld+json"]{"@context":"http://schema.org","@type":"Review","name":"Our Beautiful Planet","url":"https://ourbeautifulplanet.org/best-wakesurf-board/","description":"Our Beautiful Planet provides un-paid, un-biased reviews on sports and outdoor equipment that our readers can trust!","reviewBody":"Designed with the seasoned wake rider in mind. Fishtail design helps maintain control. Comes with 3 fins for customization.","author":{"@type":"Person","name":"Julie Adams"},"itemReviewed":{"@type":"Thing","name":"Phase 5 Model X"},"datePublished":"11/07/2018″,"reviewRating":{"@type":"Rating","ratingValue":"4″,"worstRating":"1″,"bestRating":"5″}}[/tcb-script] [tcb-script type="application/ld+json"]{"@context":"http://schema.org","@type":"Review","name":"Our Beautiful Planet","url":"https://ourbeautifulplanet.org/best-wakesurf-board/","description":"Our Beautiful Planet provides un-paid, un-biased reviews on sports and outdoor equipment that our readers can trust!","reviewBody":"Durable yet light, this board can take a beating. Designed for stunt tricks. Hybrid design mimics the loose feel of a skateboard.","author":{"@type":"Person","name":"Julie Adams"},"itemReviewed":{"@type":"Thing","name":"Byerly Action"},"datePublished":"11/07/2018″,"reviewRating":{"@type":"Rating","ratingValue":"4″,"worstRating":"1″,"bestRating":"5″}}[/tcb-script] [tcb-script type="application/ld+json"]{"@context":"http://schema.org","@type":"Review","name":"Our Beautiful Planet","url":"https://ourbeautifulplanet.org/best-wakesurf-board/","description":"Our Beautiful Planet provides un-paid, un-biased reviews on sports and outdoor equipment that our readers can trust!","reviewBody":"Great for beginners who don't want to have to upgrade. It picks up and maintains speed easily for a truly fun, steady ride.","author":{"@type":"Person","name":"Julie Adams"},"itemReviewed":{"@type":"Thing","name":"Driftsun Fifty-50″},"datePublished":"11/07/2018″,"reviewRating":{"@type":"Rating","ratingValue":"4.5″,"worstRating":"1″,"bestRating":"5″}}[/tcb-script] [tcb-script type="application/ld+json"]{"@context":"http://schema.org","@type":"Review","name":"Our Beautiful Planet","url":"https://ourbeautifulplanet.org/best-wakesurf-board/","description":"Our Beautiful Planet provides un-paid, un-biased reviews on sports and outdoor equipment that our readers can trust!","reviewBody":"Great for trick riding. Comes in 3 sizes. Foam core helps increase air time. Great for spinning tricks.","author":{"@type":"Person","name":"Julie Adams"},"itemReviewed":{"@type":"Thing","name":"Liquid Force Super Tramp"},"datePublished":"11/07/2018″,"reviewRating":{"@type":"Rating","ratingValue":"4″,"worstRating":"1″,"bestRating":"5″}}[/tcb-script] [tcb-script type="application/ld+json"]{"@context":"http://schema.org","@type":"Review","name":"Our Beautiful Planet","url":"https://ourbeautifulplanet.org/best-wakesurf-board/","description":"Our Beautiful Planet provides un-paid, un-biased reviews on sports and outdoor equipment that our readers can trust!","reviewBody":"Less expensive than Ronix, but still a great choice for beginners and experts. Steady ride and known for being just as good as boards twice the price.","author":{"@type":"Person","name":"Julie Adams"},"itemReviewed":{"@type":"Thing","name":"AIRHEAD Pfish"},"datePublished":"11/07/2018″,"reviewRating":{"@type":"Rating","ratingValue":"4″,"worstRating":"1″,"bestRating":"5″}}[/tcb-script] [tcb-script type="application/ld+json"]{"@context":"http://schema.org","@type":"Review","name":"Our Beautiful Planet","url":"https://ourbeautifulplanet.org/best-wakesurf-board/","description":"Our Beautiful Planet provides un-paid, un-biased reviews on sports and outdoor equipment that our readers can trust!","reviewBody":"A fan favorite in the wake surfing community. Fast, responsive riding. Good for up to intermediate level. Easy to use, stable but FUN.","author":{"@type":"Person","name":"Julie Adams"},"itemReviewed":{"@type":"Thing","name":"Driftsun Throwdown"},"datePublished":"11/07/2018″,"reviewRating":{"@type":"Rating","ratingValue":"5″,"worstRating":"1″,"bestRating":"5″}}[/tcb-script] [tcb-script type="application/ld+json"]{"@context":"http://schema.org","@type":"Review","name":"Our Beautiful Planet","url":"https://ourbeautifulplanet.org/best-wakesurf-board/","description":"Our Beautiful Planet provides un-paid, un-biased reviews on sports and outdoor equipment that our readers can trust!","reviewBody":"Progressive surf shape to add more surface area and control. Great for trick riding. Get's good air making it perfect for aerial tricks.","author":{"@type":"Person","name":"Julie Adams"},"itemReviewed":{"@type":"Thing","name":"Slingshot Gnarwhal"},"datePublished":"11/07/2018″,"reviewRating":{"@type":"Rating","ratingValue":"3.5″,"worstRating":"1″,"bestRating":"5″}}[/tcb-script] [tcb-script type="application/ld+json"]{"@context":"http://schema.org","@type":"Review","name":"Our Beautiful Planet","url":"https://ourbeautifulplanet.org/best-wakesurf-board/","description":"Our Beautiful Planet provides un-paid, un-biased reviews on sports and outdoor equipment that our readers can trust!","reviewBody":"Ride the rails more efficiently due to thinner concave design. Great for any experience level. Fun, fast ride.","author":{"@type":"Person","name":"Julie Adams"},"itemReviewed":{"@type":"Thing","name":"Ronix Hex Shell Skate Skimmer"},"datePublished":"11/07/2018″,"reviewRating":{"@type":"Rating","ratingValue":"4″,"worstRating":"1″,"bestRating":"5″}}[/tcb-script] [tcb-script type="application/ld+json"]{"@context":"http://schema.org","@type":"Review","name":"Our Beautiful Planet","url":"https://ourbeautifulplanet.org/best-wakesurf-board/","description":"Our Beautiful Planet provides un-paid, un-biased reviews on sports and outdoor equipment that our readers can trust!","reviewBody":"Surfboard inspired shape allows for greater buoyancy and stability. Sized to be a good fit for large and small riders alike.","author":{"@type":"Person","name":"Julie Adams"},"itemReviewed":{"@type":"Thing","name":"Ronix Koal Classic Longboard"},"datePublished":"11/07/2018″,"reviewRating":{"@type":"Rating","ratingValue":"4″,"worstRating":"1″,"bestRating":"5″}}[/tcb-script] [tcb-script type="application/ld+json"]{"@context":"http://schema.org","@type":"Review","name":"Our Beautiful Planet","url":"https://ourbeautifulplanet.org/best-wakesurf-board/","description":"Our Beautiful Planet provides un-paid, un-biased reviews on sports and outdoor equipment that our readers can trust!","reviewBody":"This is a downright incredible board. It is extremely durable and lightweight. Has a 3 fin setup so you can shred one day, and cruise the next. It'll hold up for years of fun. Best for intermediate-experienced riders.","author":{"@type":"Person","name":"Julie Adams"},"itemReviewed":{"@type":"Thing","name":"Liquid Force Primo"},"datePublished":"11/07/2018″,"reviewRating":{"@type":"Rating","ratingValue":"5″,"worstRating":"1″,"bestRating":"5″}}[/tcb-script]
Summary
Reviewer
Review Date
Reviewed Item
Author Rating