Last modified on February 22nd, 2022 at 3:27 pm
5 Tips for Finding + Working with a Responsible Dog Breeder
There are definite advantages to rescuing dogs, but pet owners look to match family life with purebred dogs that have the characteristics and traits they are looking for when bringing a dog home. When you choose to work with a dog breeder, you understand that finding one will be a valuable asset to your journey to find a perfect dog for you and others in your home. Breeders help develop the bond between you and your new pup, as well as being someone you can rely on due to their experience with your dog's breed.
Dog breeders are almost like a professional guide for you regarding care and upbringing. Deciding on what breeder to work with can be challenging, but as with any decision you make, you should ensure that you research and be prepared before committing to a certain breeder.
However you take the time to determine what breed of dog you want, be it loads of research on finding the perfect French Bulldog for sale, or a quiz for finding the right dog breed, here are some great tips to help you find and work with the most responsible dog breeders.
Meeting Face-to-Face
The best way to understand if your breeder is responsible is to visit with them and see where the kennel is and where they work. Unfortunately, this has become increasingly difficult due to the COVID-19 pandemic. Still, you should try and ask if they can do a video conference or mobile video with you so that they can show you around their area. While you are on the call try to ascertain things like, how well do they know about the dogs? The state of the premises, is it clean and well organized? Are the dogs comfortable around the breeder? Do the dogs look healthy?
You should have a clear indication that the above things are well taken care of by the breeder. In addition, you can usually tell pretty quickly whether or not a breeder is passionate and cares for their dogs.
Question & Answer Sessions
There is no doubt that within your quest to find a dog breeder, you will have many questions. Therefore, when you meet with a breeder for the first time, you should prepare yourself with questions that you feel are important to ask, such as:
Where did each dog parent come from/Can I meet the puppy's parents?
Will the puppies have their shots/paperwork acquired before you take them home?
What kinds of dog foods are preferable for the breed?
What sort of temperament does this particular breed display?
Is the breed trainable?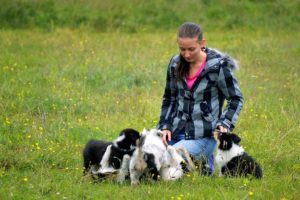 These are just a few of the questions you may have, but don't be shy in asking as many as you feel necessary to help you gauge not just the answers but the breeder and how they respond to those questions.
Ask yourself: are they patient with all my questions? Are they explaining things so that I understand them? Do I feel that I can approach them with more questions or concerns?
Responsible and caring breeders want nothing but the best for their dogs, so they should also be assessing you in the initial visit so that they can determine if you will be a good pet parent. They want to see their dogs in forever homes where they will be happy and live long lives and so they should be ready to help you out with your doubts no matter how many you have while also making sure that you would be a good dog parent and care for them.
Meeting the Parents
Good breeders will gladly provide you with an opportunity to spend some time with the parents of the dog that you are planning on getting. If it is not possible to meet both the parents meeting either one will provide you with ample information on whether they are being well taken care of by the breeder. Of course, with the pandemic, you will have to rely on a video conference in this regard.
Medical History
Many breeders will not shy away from providing you with dog health and medical history, such as OFA and CERF. If they know that any breed of dog is more susceptible to health issues or conditions, they also will provide you that information upfront so that you are aware of concerns that may occur as your dog grows and matures.
It is a big red flag if you notice that a breeder is not as forthcoming or knowledgeable when it comes to providing you with the medical and health history of the dog. It indicates that the breeder either does not know enough about the particular breed or is not as responsible as they claim to be.
Willingness to take the Puppy Back
Another good indicator that the breeder that you are in talks with is responsible is if they show complete willingness to take the puppy back in case you are not able to look after it for whatever reason.Taking care of the dog and making sure it is okay should be their first priority rather than selling the dog to whoever comes up with the cash. This is the reason why you should pay attention to whether or not the breeder is also asking you questions and in the process making sure that you are the right fit for the dog. And at any point, you get the feeling that the breeder is unwelcoming toward the possibility of taking the dog back in case things do not work out for you, you need to look for another breeder.
Documentation and Breeding Papers
Another aspect of breeding that you should ensure is documentation of your dog's pedigree. Look for the American Kennel Club logo so that you know their breed is most definitely certified and valid.
If you find a breeder that wants to charge you a fee to review the dog papers, this is not a good sign. If they have not gotten the papers yet and advise that you will receive them later, don't continue to work with them until you receive that confirmation, and you can let them know this as well.
Good breeders will take care of all of the documentation themselves and will not put any of that burden upon you since it shows a lack of responsibility on the breeder's part. They realize it is their job to take care of papers, demonstrating their validity as a breeder.
Getting a Referral
You can also take the help of references from the people that you know closely or your vet to help you find a good and passionate breeder. The references should have great feedback about the breeder thereby giving you an idea about what sort of breeder you are going to connect with.
Meeting The Dog Doesn't Happen Right Away
Breeders understand that puppies need to mature and socialize among their brothers, sisters, and parents when they are born. There is a transitional period of about two to three months before it is safe for the puppy to be around other humans.
You should not expect to meet a breeder and bring a new dog home on the same day. Typically when you first meet the breeder, you may be able to see the kennel and possibly view the dogs, but that's it; there is no interaction yet.
There is a transition process, and it takes time, so you need to exercise patience and understand that it also ensures your breeder is genuine. A breeder showing this calculated care is a sign of a responsible breeder allowing their puppies to mature in that period without disrupting it. You can also benefit from this period as in, you get ample amount of time to prepare your house and get all the things necessary before the puppy or the dog comes to live with you.
Other Indications of a Responsible Breeder
Breeders tend to work with their canines across the community, whether dog shows, obedience training, or agility classes. You should be able to look across their websites and see titles that can help to assure you that the breeder knows their job well and takes their position seriously and understands that spending time with their dogs allows them to socialize well.
A reputable breeder should also engage in a contract with you when you decide to move forward in the buying process. The contract should offer a health guarantee for your puppy to be free from genetic defects up to one year of age.
Breeding is a labor of love. Honest and passionate breeders dedicate themselves to maintaining their breeds and keeping themselves updated with all that there is to know about them. That way, they can provide you with accurate and researched information as well as helpful advice to guide you in your new dog's care. Not only does this help you and the dog form a strong bond but it also makes you well aware of what to expect from your dog and take care of its needs and solve issues in the best way possible.