For many people, the motivation to get a "smart" watch comes from the desire to help improve their physical fitness through heart rate monitoring. When it comes to fitness tracking, Fitbit is nothing short of a household name. Their products have never really been geared toward those looking for a high end fashion accessory, but the Fitbit Blaze is definitely a step in that direction.
Like earlier Fitbit models, the Blaze tracks your steps, daily activity, heart rate and sleep patterns. It boxes up all of this information into an app so you can track your overall fitness levels. However, the Blaze is a step up from earlier Fitbits in that it has more smartwatch features. With the Blaze, not only can you monitor your health, you can also control your music, answer phone calls, read texts, get calendar reminders and even be guided through a series of calming breathing exercises and fitness routines.
I have had the Blaze now for about a year, and it has been a great workout companion. It is an excellent entry-level smartwatch, and a phenomenal fitness tracker. It does have a few downsides that ultimately led me to pull the trigger on an upgrade, so without further adieu here's what you need to know before buying the Fitbit Blaze.
Design:
Unlike previous Fitbit products, the Blaze has much more of a smartwatch-like design. It has a full color display and a myriad of different bands so you can really customize the look. It has a sleek design that will go nicely with most outfits. It is the perfect size to look good on just about anyones wrist. I am a somewhat petite woman and I have no issues pairing my Blaze with a handful of outfits. The only time I had to take it off was for a formal "little black dress" event that called for a classier look. That being said, it definitely isn't a watch that won't work for men, I have seen this watch on other people (some of them being burly men with anchor arms) and it looks great.
The only complaint I have about the design is the lack of screen size optimization. For the size of the watch face, a disappointingly small amount of that is actually for the screen. There is a thick border around the screen that you can't really un-see once it's been pointed out (sorry).
Battery Life:
Wowza! This is what sets the Blaze apart from other comparable smart watches. You can easily get a full 4-5 days out of it. This makes it arguably the best sleep tracking watch on the market. Let's be real, how are you supposed to track your sleep if you have to charge it every night? You can't. This is one reason I really fell in love with the Blaze. When doing my initial research before buying I considered an Apple watch until I saw the battery life was less than 24 hours. WTF?
Functions:
While it looks more like a smartwatch than any other Fitbit before it, the Blaze is still very much an activity tracker first, and a smart watch second. Some of the functions you look for in a smartwatch such as using apps and replying to messages just aren't there on the Blaze, which is ultimately why I am upgrading.
Don't get me wrong, its great for fitness and sleep tracking, but that's about it. It really is just another Fitbit activity tracker with an upgraded look. Here's a quick summary of all its basic functions:
1. Notifications:
You can receive texts and calls, but you can't reply. This was a big pain point for me. I often times found myself reading a text on my watch then forgetting to reply. Now I have no friends because I ignored them all 🙁 (This was my main reason for upgrading to the Fitbit Versa).
2. Heart Rate Monitoring:
Fitbit really has this down at this point. I have no complaints. I monitor my heart rate when I work out and everything seems to be pretty accurate. The only time it may stray from the truth is when you're reallllyyyyy working and you're up in the peak heart rate zone.
3. Step Tracking:
This is another thing that Fitbit has seemed to have mastered. I haven't been able to trick it and it always seems accurate. You can set goals for yourself and the watch will buzz to remind you to take the steps needed to reach your goal.
4. Alarms/timers:
I use the silent alarm clock every day. You can set your alarm right on the watch and when it's time to wake up, it vibrates which wakes you up, but nobody else hears it! This is really great if you're like me and work a day job and have a partner who works nights.
5. Features I didn't really use:
I feel as though I can't leave features out of a review just because I didn't use them, because maybe other people will.
Specific activity tracking:
The Blaze can track a variety of exercises such as running, cycling, weight lifting, treadmill, elliptical, as well as a general "workout". Maybe I missed something but I don't know what's different about these settings so I always just set it to "workout" regardless of what activity I'm doing. As far as I know it tracks everything just the same.
Fitstar:
I build my own workouts so I didn't really see a need for this feature. Essentially, you can go to this section of the Blaze, pick from a group of pre-built basic routines and it displays a graphic of what to do and how long to do it. I could see this being really great for people who want a simple workout routine that's easy to follow.
Relax:
Okay, so I have used this once or twice but it is by no means something I do all the time. When you scroll to this section of the Blaze, you are able to pick between a 2 or 5-minute relaxing deep breathing sessions. It gives you a quick tutorial of how to breath properly to promote relaxation, then prompts you to breathe as it vibrates so you can close your eyes and let it lead you through the session.
Overall Thoughts On The Fitbit Blaze
The Blaze is a really great watch. It is an all-around well designed and implemented upgrade from Fitbits previous products, but it is definitely not the best out there. Whether or not the Blaze will be a good fit for you is really dependent on what you are looking for. Do you want more of a smartwatch that allows you to open apps and reply to messages? Maybe the Apple watch or Fitbit Versa will be a better choice. If you care more about fitness tracking than all the bells and whistles, than this could be a really great watch for you.
Pros:
Cons:
I hope you enjoyed this review, if you think I missed anything or have your own thoughts about the Fitbit Blaze, let me know in the comments section below!
[tcb-script type="application/ld+json"]{"@context":"http://schema.org","@type":"Review","name":"Our Beautiful Planet","url":"https://ourbeautifulplanet.org/fitbit-blaze-review/","description":"Our Beautiful Planet provides un-paid, un-biased reviews on sports and outdoor equipment that our readers can trust!","reviewBody":"The Blaze is a really great watch. It is an all-around well designed and implemented upgrade from Fitbits previous products, but it is definitely not the best out there. Whether or not the Blaze will be a good fit for you is really dependent on what you are looking for. Do you want more of a smartwatch that allows you to open apps and reply to messages? Maybe the Apple watch or Fitbit Versa will be a better choice. If you care more about fitness tracking than all the bells and whistles, than this could be a really great watch for you.","author":{"@type":"Person","name":"Julie Adams"},"itemReviewed":{"@type":"Thing","name":"Fitbit Blaze"},"datePublished":"11/07/2018″,"reviewRating":{"@type":"Rating","ratingValue":"4″,"worstRating":"1″,"bestRating":"5″}}[/tcb-script]
Summary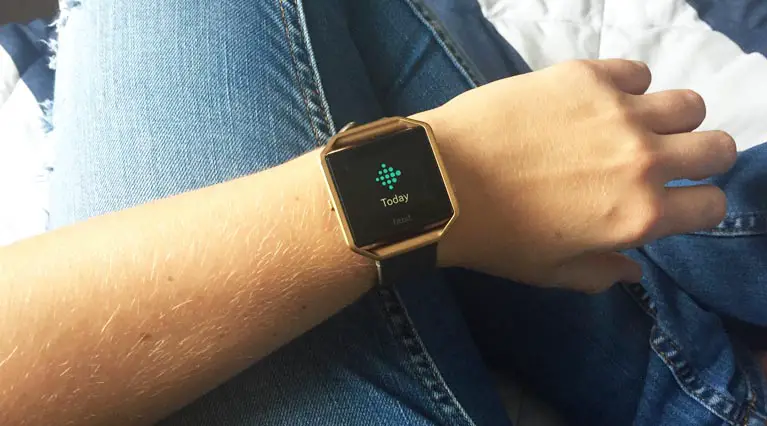 Author Rating





Brand Name
Product Name